Seven months after a previous amendment was introduced to Turkey's contentious 5651 law governing internet activity, new restrictions were passed late on September 8. Before the February amendments were signed into law by then President Abdullah Gül, a protracted approval process over the course of a few weeks helped bring attention to the proposals. In contrast to the online and street protests against internet censorship that preceded the amendments' approval earlier this year, last week's changes to the 5651 law were rushed through a vote before word could spread about them.
The newest restrictions are only two articles tucked into a lengthy omnibus reform bill: in a total of seven sentences, amendments number 126 and 127—part of a list of 146—succinctly make way for invasive data logging and the speedier blocking of access to websites. Nihan Güneli, an Istanbul-based technology and media lawyer, said the hurried vote on the bill kept opposition to the internet regulations muffled. When the details of the earlier 5651 amendments were first presented in January, Güneli said, "everybody was protesting it. I believe that was one of the main reasons Abdullah Gül rejected these two main articles. But this time we didn't have any time. We just saw the article and everybody was shocked."
Before approving the last amendments in February, Gül urged legislators to adjust two of its articles: one measure allowing for Turkey's Telecommunications Directorate (TİB) to block access to some websites within four hours – without a court order, was changed to require judicial review. Another measure that gave TİB the right to collect internet users' data was changed to restrict access to user logs.
Former Prime Minister Erdogan replaced Gül as Turkey's new president on August 28. Less than two weeks after his inauguration, these newest internet restrictions allow for websites to be blocked within four hours if their content is ruled a threat to national security or public order, or if restricting access to them can prevent a crime. Under the new amendment, TİB is also allowed to store internet users' traffic logs and metadata. In an attempt to make the February bill amendable to critics, these two most offensive parts of the previous amendments to 5651 were dropped at Gül's request. Now exactly those measures have been quietly put into effect under Turkey's new president.
The targeting of websites determined to be threats to national security comes after the Turkish government struggled to suppress a series of leaked phone recordings earlier this year that spread on social media. The wiretapped phone conversations featured what appeared to be the voices of Prime Minister Erdogan and people close to him, and pointed to their implication in an ongoing corruption scandal. Other recordings ostensibly showed Erdogan's meddling in the judiciary and with owners of major media outlets. In March, a leaked recording from a meeting at Turkey's foreign ministry detailed the government's considerations for military involvement in Syria. Shortly after that recording was posted on YouTube, access to the platform was blocked entirely in Turkey.
YouTube is one prominent example of access restrictions prior to the most recent legislation reform—the website was previously banned for over two years up until 2010. The possible effects of the newest amendments' measures for blocking websites are still unclear, although the implications for access to information are startling. A number of small, alternative news websites have been aggressively covering the Turkish government's recent corruption scandal. With no offline distribution form, their livelihood would be put at risk if their websites became inaccessible.
The news website Diken was founded in January 2014 and has since gained a following for its alternative reporting. In June, Diken was named "internet newspaper of the year" by an environmental organisation. Editor in chief Erdal Güven says Diken published almost every one of the leaked government phone recordings earlier this year. So far, Diken has not been shut down or admonished by authorities, which Güven suggests may be because the website is still less than one year old and may not be considered a sufficient threat. Diken risks being targeted by TİB at any point, though, says Güven. "It depends on an advisor to a minister, an MP, the president. Just to read a story of ours and then complain to the legal authorities," Güven said. Referring to the fines media companies can face for publishing information deemed illegal, Güven added, "They can ask us to pay a huge amount of money. We don't know what they will do. We don't have a huge amount of money, we have a tight budget. Of course this would affect us."
Because of their editorial choices and coverage of government scandals, alternative news sources and social media are the main targets of the new restrictions on website access. Elif Örnek, a reporter for the leftist newspaper soL, says that journalists are often pressured or face censorship, and in reporting on issues that the government is trying to suppress, like the leaked phone recordings, the stakes can be especially high for the media. "The main thing is that when you're thinking about the public interest, there are some dangers you have to risk," Örnek said.
For internet users, TİB's broad collection of metadata is a newly legal tool for monitoring online activity. Nihan Güneli says it's impossible to predict how TİB will purpose users' traffic logs. "Within six months, maybe we'll hear about a case, maybe somebody will be arrested or someone committed a crime and we'll see this traffic information in court. Then we'll know what they're doing with it," Güneli said. Censorship of websites within Turkey is not new, making it hard to predict whether the new bill's other article, which gives TİB the authority to block sites within four hours, will have palpable effects on access to information. "TİB has power right now and nobody knows what they're going to do with it. I don't think they know either," Güneli said.
Media violation reports from Turkey via mediafreedom.ushahidi.com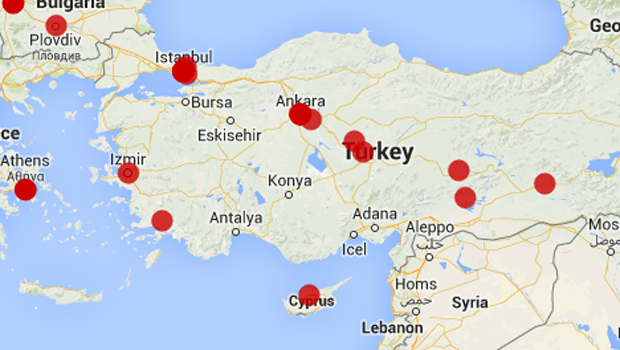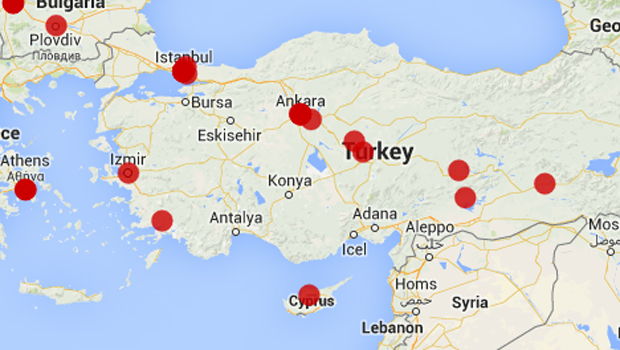 Twitter account of Today's Zaman editor faces closure
Journalist kidnapped and released by PKK
Report shows media use of hate speech increased in early 2014
Several media organisations denied accreditation to AK Party congress
This article was posted on 24 Sept 2014 at indexoncensorship.org