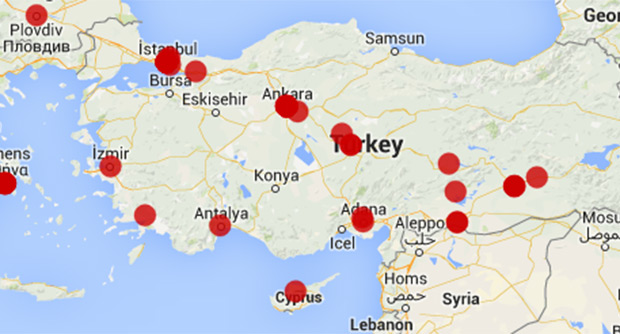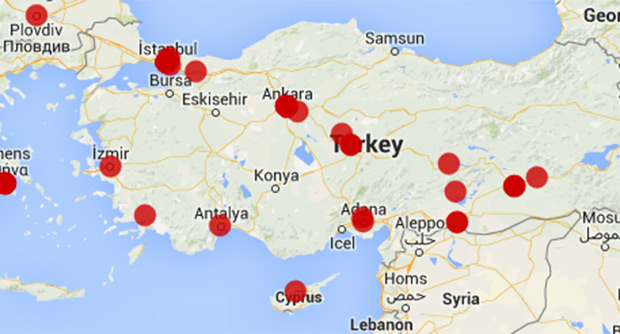 On Sunday, December 14, at least 27 people were detained by Turkish police, including journalists, producers and directors of TV shows and police officers. Arrest warrants were issued for at least 31.
The offices of the newspaper Zaman and of the television network Samanyolu TV were raided by police. A warrant for the arrest of Zaman editor in chief Ekrem Dumanlı was at first incomplete, prompting police to return later on Sunday to arrest Dumanlı. Hidayet Karaca, manager of Samanyolu TV, was also detained, as well as Samanyolu producer Salih Asan and director Engin Koç, who were arrested in the city Eskişehir. Warrants were also issued for Makbule Çam Alemdağ, a writer for a Samanyolu show, and Nuh Gönültaş, a columnist for the newspaper Bugün. Bianet has published a list of those detained yesterday.
A large group of protesters gathered outside of Zaman's Istanbul offices, holding signs that read "Free press cannot be silenced".
Zaman and Samanyolu TV have been singled out by Turkish President Erdogan for being part of what Erdogan calls a "parallel structure" affiliated with exiled cleric Fethullah Gülen. Erdogan has accused Gülen of being at the centre of plots to topple the government.
The prosecutor in charge of Sunday's operation said that those detained are being charged with involvement in a terrorist organisation, while some are accused of fraud and slander.
The raids were announced by the Twitter user "Fuat Avni" (a pseudonym) on December 13. Fuat Avni tweeted a list of 47 people for whom there would be arrest warrants.
On Monday Turkish President Recep Tayyip Erdogan attacked the European Union for criticising the arrests that targeted opposition media outlets, telling the EU to "mind its own business."
"The European Union cannot interfere in steps taken … within the rule of law against elements that threaten our national security," Erdogan said in a televised speech. "They should mind their own business," he added, in his first comments after Sunday's raids.
EU foreign policy chief Federica Mogherini and enlargement commissioner Johannes Hahn on Sunday condemned police raids as going "against the European values" and said they were "incompatible with the freedom of media, which is a core principle of democracy."
Recent media freedom violations from Turkey via mediafreedom.ushahidi.com:
EU project overshadowed by arbitrary media ban
BirGün newspaper to undergo investigation for critical coverage
Journalists assaulted, prevented from photographing
Economist and Taraf correspondent threatened on Twitter
Journalist sentenced to community service for insult
This article was updated on 15 December 2014 at indexoncensorship.org
This article was originally and updated at mediafreedom.ushahidi.com on 15 December 2014