Bonil is the pen name for Xavier Bonilla, an Ecuador-based editorial cartoonist who draws for several national newspapers, particularly El Universo. For 30 years he has critiqued, lampooned and ruffled the feathers of Ecuador's political leaders, earning a reputation as one of the wittiest and most fearless cartoonists in South America.
More recently, Bonil has gained a new epithet – "the pursued cartoonist" is how Spanish newspaper El Pais recently styled him. Bonil's work had regularly attracted the ire of incumbent president Rafael Correa. But in 2014 anger escalated to retribution, the president publicly denounced Bonil and threatened him with legal action on two separate occasions – the first was successful against Bonil, and the second is ongoing.
President Correa has been in constant battle with the domestic press since first being elected in 2007. He has reprimanded journalists critical of the state through a combination of crippling fines and smear campaigns on his weekly TV show. In response to a 2012 article in El Universo calling him a dictator, he charged the paper with criminal libel – leading editors were sentenced to three years each in prison, and the paper was fined $42 million.
On that occasion, international pressure led Correa to pardon the newspaper at the 11th hour. But in June 2013 he introduced a new communications law which, under the guise of promoting freedom of expression, codified the repression of political journalism. It ordained that "information of public interest received through the media should be verified, balanced, contextualized and opportune" – meaning the government had the ultimate say on whether a journalist's work was appropriate.
Bonil was the first individual to be targeted by the legislation. In December 2013, police raided the apartment of Fernando Villavicencio, a journalist and adviser to an opposition party, and took his computers and files. Villavicencio had claimed to own documents revealing government corruption. Correa alleged that Villavicencio had illegally hacked into government emails.
Bonil's depiction of the incident (see below), published in El Universo the following day, took Villavicencio's side. Correa publicly denounced the cartoon, calling Bonil "sick", "cowardly" and "an ink assassin". He called for an investigation which led to Bonil and El Universo being dragged before a media regulatory agency, which fined El Universo $92,000 and ordered Bonil to draw a "retraction" cartoon (also below) within three days. In this version, dripping with sarcasm, comically polite officers give a bunch of flowers to Villavicencio, who in turn begs the police to take away his belongings.
Bonil attracted further government attention when, in August 2014, he drew a cartoon ridiculing star footballer-turned-statesman Agustín "El Tin" Delgado. A viral video had showed El Tin struggling to read through a speech in parliament. Bonil's cartoon suggested that ridicule of El Tin was justified, given his sizeable government salary. President Correa has since repeatedly denounced Bonil as racist and called the cartoon a "hate crime" – a charge which can carry a three-year prison sentence. Bonil has responded that the cartoon had no racial element.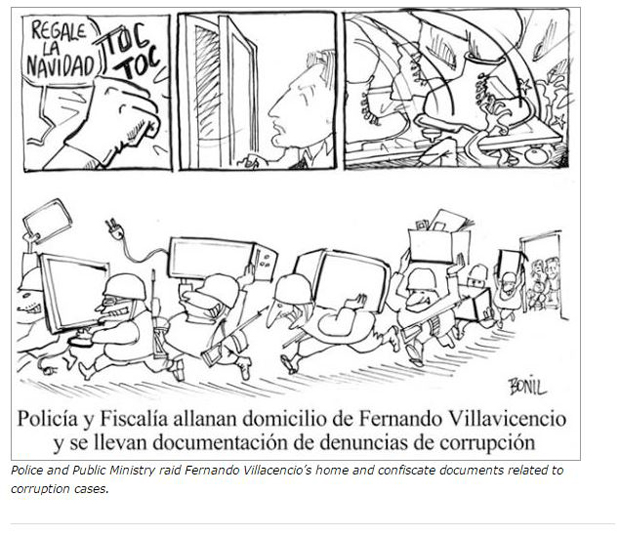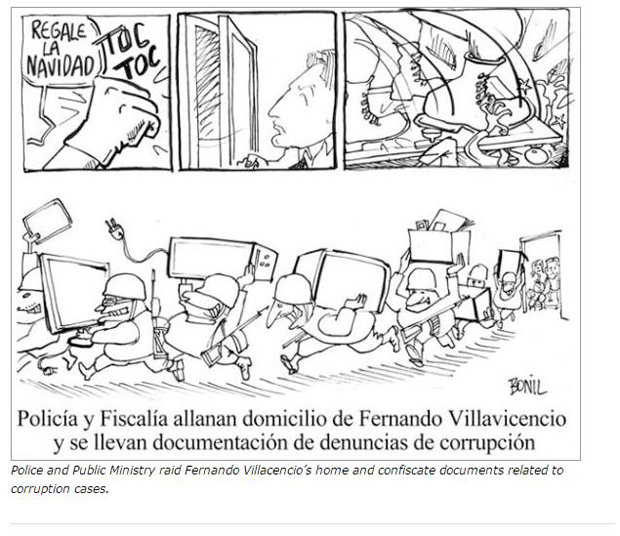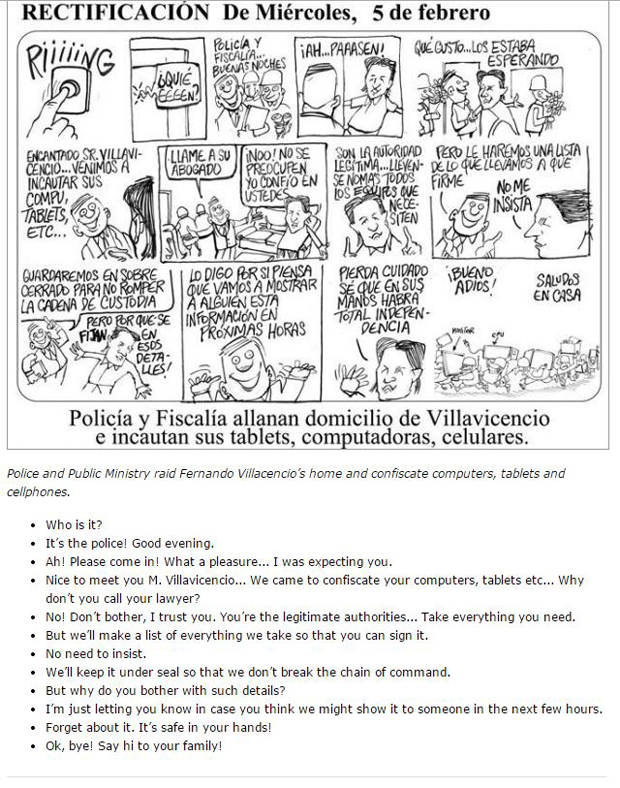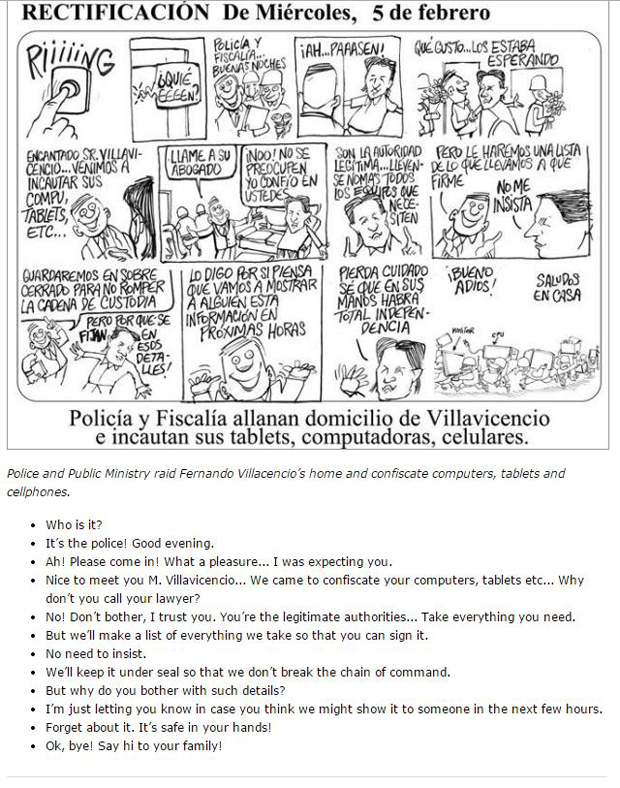 Video: Vicky Baker | Text: Will Haydon
This article was posted on February 27, 2015 at indexoncensorship.org