"The one thing the powerful cannot stand is laughter," said British cartoonist Martin Rowson, speaking at an event with persecuted Malaysian cartoonist Zunar in London last night.
Citing the story of the emperor's new clothes, and the revolutionary potential of the little boy who laughs out loud at what he sees, Rowson said he felt "very humbled" to be talking to a fellow cartoonist who could soon be condemned by his own government to spend the rest of his life in prison.
Zulkiflee Anwar Haque, aka Zunar, is currently facing a record number of nine simultaneous charges under Malaysia's sedition act in a trial that is scheduled to begin on 20 May.
Originally enacted by British authorities in 1948, the sedition act is an old piece of colonial legislation which is being used to silence opponents and suppress free speech in a country where the ruling party has not changed in 57 years.
"Maybe here you have a government," Zunar told a packed house at London's Free Word Centre, "in Malaysia we have a regime… a cartoon government".
Visiting London a week before his trial is due to open, 53-year-old Zunar remained upbeat despite the possibility of his spending up to 43 years behind bars.
Zunar took the opportunity to launch his recent book of cartoons, Ros in Kankong Land. Poking fun at Rosmah Mansor, the powerful wife of Malaysian PM Najib Razak, the book has been repeatedly barred from being launched officially in Malaysia.
With five of his books already banned for containing cartoons deemed "detrimental to public order", his Kuala Lumpur office repeatedly raided, and publishers and bookstores across his country warned off printing or carrying any of his titles, censorship is an everyday challenge for Zunar.
Why carry on? Because he "wants to tell Malaysians that you are the ones who suffer from corruption", ending the evening by drawing a cartoon depicting his fellow countrymen, propping up their regime and suffering painfully under the weight of their rulers.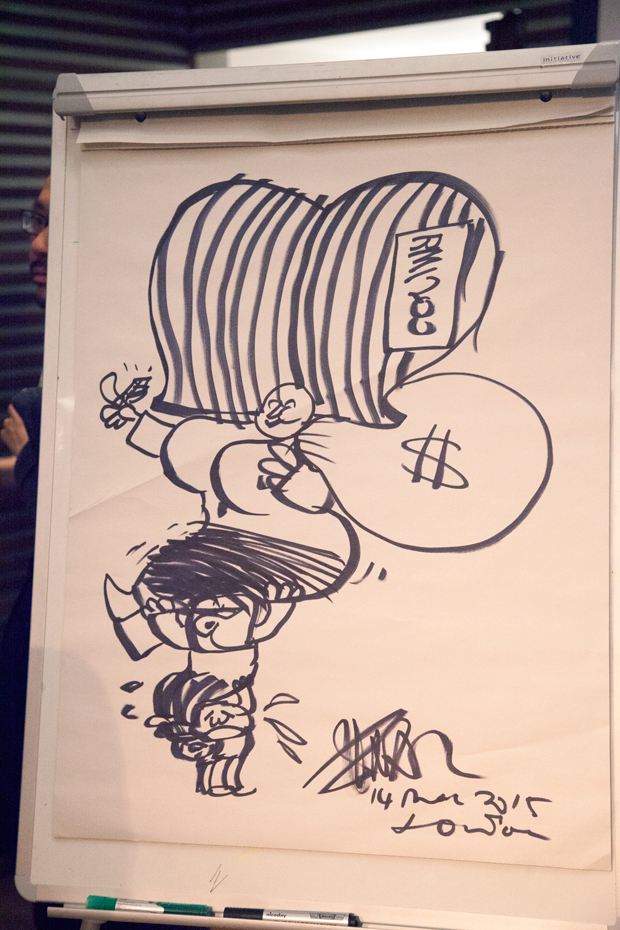 "Talent is not a gift. It's a responsibility," said Zunar, underlining his intention to "draw until my last drop of ink" and inviting "you all to join me in fighting this government".
Discussing the power of cartoons to cut across divides universally, Rowson added an interesting perspective, telling the audience he had come to think his "purpose is not to shame politicians into resignation" but "to empower people to laugh at them".
"I am a satirist and a cartoonist because I am offended," offered Rowson, reflecting on whether there are any limits for cartoonists. "Why pinch when you can punch?" said Zunar, suggesting people mix up moral right and artistic right. "I saw cartoons of the prophet Muhammad and I didn't like them all…", but "if he was alive today, Prophet Muhammad wouldn't have ordered cartoonists killed".
How you can help Zunar
Zunar was visiting London to raise awareness of the situation for him and his peers. To call on the Malaysian government to drop all charges and renew its commitment to freedom of expression, you can sign this petition.
You can also buy Zunar's latest book Ros in Kangkong Land at his website.
This article was posted on 15 May 2015 at indexoncensorship.org
Latest posts by David Heinemann
(see all)