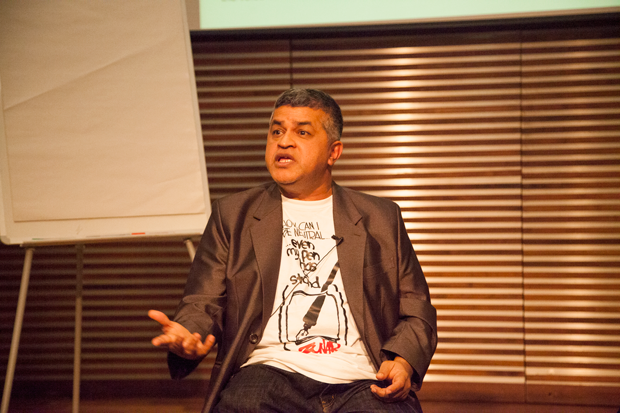 Malaysian cartoonist Zulkiflee Anwar Haque, aka Zunar, currently faces a record number of nine simultaneous charges under Malaysia's controversial sedition act in a trial that is scheduled to begin on July 7.
Join Index in signing this petition for charges against him to be dropped.
Zunar has been repeatedly targeted for his editorial cartoons that critique the Malaysian government, which has banned much of Zunar's work and repeatedly subjected him to raids, arrest and detainment.
Zunar, who joined Index at an event on cartoons and censorship in London in May, told Index: "The Malaysian government keeps taking giant reverse steps in terms of human rights and the right for expression. There is no light at the end of the democratic tunnel. I hope for freedom, but prepare to fight on."
Index on Censorship has called on the Malaysian government to repeal the sedition act. "Malaysia is using an outdated and outmoded act to stifle free expression in the country," said Index CEO Jodie Ginsberg. "We ask Malaysia to drop its case against Zunar."
This was posted on 16 June 2015 at indexoncensorship.org

Latest posts by Jodie Ginsberg
(see all)