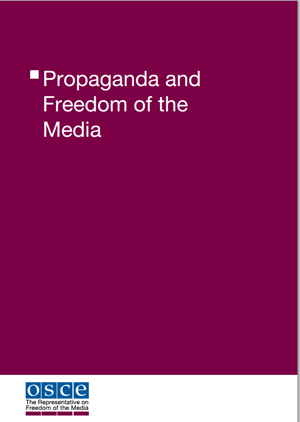 Propaganda, counterpropaganda and information wars are all terms that, unfortunately, have become part of our daily discourse.
As the Organization for Security and Co-operation in Europe (OSCE) Representative on Freedom of the Media, I have raised the issue of propaganda emanating from the conflict in and around Ukraine. I have called propaganda an ugly scar on the face of modern journalism and called on governments to get out of the news business.
Tackling propaganda is not a new concept to the participating states of the OSCE. It goes back to the beginning of this organization. At the time of the Helsinki Final Act, the participating states committed themselves to promote "a climate of confidence and respect among peoples consonant with their duty to refrain from propaganda for wars of aggression" against other participating states.
Those promises were broken for the first time before and during the war in former Yugoslavia in the 1990s. Dangerous stereotypes that dominated state media since the beginning of the crisis significantly contributed to the development of an intolerant atmosphere and influenced people's beliefs and increased feelings of national and religious differences.
Creating an environment of fear and general anxiety, with constant labelling of enemies was now expanded to nationalities. Ethnic intolerance, built by cleverly devised propaganda in the media, resulted in general support for a brutal war. Many studies and much research about the role of media in the former-Yugoslav conflict indicated that media, while serving the regime, produced war and hatred.
Fast forward to 2015. The media landscape has changed almost completely, but journalism still suffers from propaganda and its wicked elements. In the 21st century, where new technologies are bringing information – and journalism – to readers in new ways and faster than ever before, propaganda is alive and doing very well.
It is apparent that some media are in dire need of self-examination. There is a need to cleanse journalism of fear, propaganda and routine frustration. In the absence of critical journalism, democracy suffers and deliberate misinformation becomes the standard.
In the past 12 months my office has been heavily engaged in a campaign on several fronts to attack the root causes of propaganda and its all-too-likely consequences: ignorance, hate and hostility. My team has spent considerable time and resources working with Russian and Ukrainian journalists in confidence-building measures designed to bridge the gap between them. We have instituted training for young journalists from the two states on such topics as ethics in journalism, conflict reporting and propaganda.
The latest element in our campaign against propaganda was just published: Propaganda and Freedom of the Media offers an in-depth look at at the legal and historical basis against propaganda.
The report recommends that:
Media pluralism must be enforced as an effective response that creates and strengthens a culture of peace, tolerance and mutual respect.
Governments and political leaders should refrain from funding and using propaganda.
Public service media with strong professional standards should be strongly supported in their independent, sustainable and accessible activity.
Propaganda should be generally uncovered and condemned by governments, civil society and international organizations as inappropriate speech.
The independence of the judiciary and media regulators should be guaranteed in law and in policy.
The root causes of propaganda for war and hatred should be dealt with a broad set of policy measures.
National and international human rights and media freedom mechanisms should be enabled to foster social dialogue in a vibrant civil society and also address complaints about incidents of hateful propaganda.
Strengthening educational programmes on media literacy and internet literacy may dampen the flames that fire propagandists.
Media self-regulation, where it is effective, remains the most appropriate way to address professional issues.
Propaganda does a disservice to all credible, ethical journalists who have fought for and, in some cases, given their lives to produce real, honest journalism. In sum, propaganda for war and hatred is effective only in environments where governments control media and silently support hate speech. A resilient, free media system is an antidote to hatred.
My hope is that the report Propaganda and Freedom of the Media will assist OSCE participating States, policymakers, academia and media professionals throughout the OSCE region and beyond.