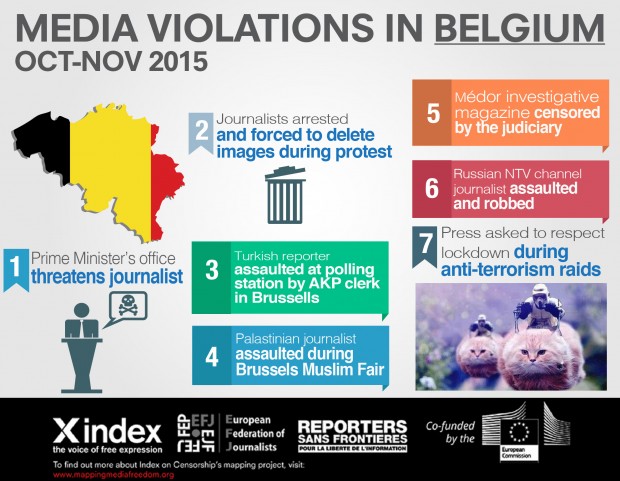 Following the murderous barbarism in France last month, a state of alert was subsequently declared in Belgium amid concerns that a "Paris-style" attack was imminent in Brussels. The city went into lockdown for five days, the army was deployed on the streets, and the authorities asked the media and public not to report on what was happening.
Belgian media complied, as did Belgian Twitter users, who, under the hashtag #BrusselsLockdown, posted pictures of cats rather than comment on police raids.
#Breaking: Leaked photos of #BrusselsLockdown suspects. pic.twitter.com/xNvtNbjzxJ

— Geysar Gurbanov (@geysar) November 22, 2015
The lockdown of Brussels has certainly raised some important questions. As Index on Censorship's Mapping Media Freedom project shows, it may indicative of a wider problem of media violations within the country.
1. Prime Minister's office threatens journalist
During the visit of Turkish President Recep Tayyip Erdoğan, Tristan Godaert, a journalist working for RTBF, the public broadcasting organisation of the French community of Belgium, was repeatedly threatened by the press secretary and the spokesperson of the Belgian Prime Minister Charles Michel while covering the visit of Turkish President Erdogan. On 6 October, during a speech by the Turkish president, Godaert shouted: "Mr. Erdoğan, why is Mohammed Rasool still in prison in Turkey?" A Turkish embassy official then a representative of the Belgian government who then informed RTBF that they were no longer allowed to film. Afterward, the Belgian Prime Minister's communications director threatened the journalists, saying that if the footage was aired there would be "consequences".
2. Journalists arrested and forced to delete images during protest
protest against the free trade agreement #TTIP during an #EUsummit in #Brussels, #Belgium,Oct. 15,#StopTTIP pic.twitter.com/Efk4Q8RtsX — ✌☮#UpTheRebels☮✌ (@Chara_fc) October 16, 2015
On 15 October, around 100 people were arrested in Brussels at a mass demonstration against TTIP (Transatlantic Trade and Investment Partnership), an impending free trade deal between the US and the EU.
During the protest, Thomas Michel, a freelance journalists working for Zin TV, and Maxime Lehoux, an Italian photojournalist, were arrested by the Belgian police and forced to delete photographs they had taken.
A press release by Zin TV following the incident said: "The images contain the humiliation of the police inflicted on protesters […] We remind that it is illegal to be seized from its sources, it is a violation of professional secrecy and the level of justification 3 of 4 on the scale of the risk of terrorism is simply bogus."
3. Turkish reporter assaulted at polling station
R Doğan, a Cihan news agency reporter, was physically and verbally assaulted on 19 October by a polling clerk at a voting station in Turkey's Consulate General in Brussels for the Turkish Justice and Development Party (AKP).
Doğan was insulted by the AKP clerk, who grabbed his arm and escorted him out of the building. The reporter was there to observe Turkish citizens based abroad who were voting as part of the 1 November Turkish general election.
4. Palestinian journalist assaulted during Brussels Muslim Fair
Le journaliste palestinien Salama Attaallah agressé alors qu'il couvrait la Foire musulmane de Bruxelles: https://t.co/o5HsE6H0Lb

— Ricardo Gutiérrez (@Molenews1) November 13, 2015
On 7 November, Palestinian journalist Salama Attaallah was assaulted while covering the annual Muslim Fair activities in Brussels for Al Ghad TV. While shooting, an individual introducing himself as a representative of Al Aqsaa demanded he stop filming women participating to the fair. Attaallah refused, explaining that he was not there to film women, but rather to report about the event in general. As a result, he was punched repeatedly in the face. The whole altercation was caught on film.
5. Médor investigative magazine censored by the judiciary
La Justice #censure la sortie de «Médor» suite à une action de la firme pharma Mithra https://t.co/0RRVS7wHnW pic.twitter.com/6tnuRqmJW8 — Médor (@Medor_mag) November 19, 2015
Médor a new investigative magazine in Belgium, has been censored by the Belgian judiciary at the request of a businessman representing a pharmaceutical company.
In its first issue, Médor published a story about the financial structure of the pharmaceutical company that is largely supported by regional authorities. The investigation, which lasted more than six months and compiled extensive documentation, was conducted by the award-winning David Leloup.
The Association of Professional Journalists, an EFJ-IFJ affiliate, has expressed its shock at the censorship and offered legal support to Leloup.
6. Russian NTV channel journalists assaulted and robbed
On 18 November, NTV channel reporter Konstantin Panushkin and cameraman Zakir Ansarov were beaten and robbed in northern Brussels. The Russia-based journalists were seeking to speak with relatives and friends of a jihadist-related to attacks in Paris.
Panushkin said that they were interviewing a group of 10 teenagers, when both were assaulted and robbed. The assailants took a backpack with documents, money and a laptop.
Details of attacks on the media across Europe can be found at Index on Censorship's Mapping Media Freedom website. Reports to the map are crowdsourced and then fact-checked by the Index team.
---
Mapping Media Freedom

Click on the bubbles to view reports or double-click to zoom in on specific regions. The full site can be accessed at https://mappingmediafreedom.org/
---