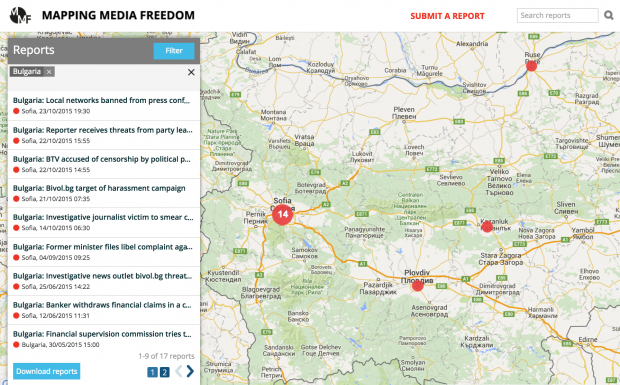 Journalists of the Bulgarian investigative news website Bivol.bg are facing an orchestrated smear campaign that's unusual even for Bulgaria, the worst-ranking EU member in the 2015 Reporters Without Borders press freedom index.
The attacks can be linked to mainstream media outlets controlled by the Bulgarian media mogul and lawmaker Delyan Peevski, and seem to be a response to a number of investigations published recently by Bivol.bg, all involving Peevski in one way or another.
"Even if it is not like in the beginning, the smear campaign did not end," Bivol's editor-in-chief, Atanas Chobanov, told Index on Censorship in December 2015.
During the autumn, articles denigrating Chobanov and Assen Yordanov — Bivol's founder, co-owner and director — began appearing in media outlets such as the Bulgarian weekly Politika, the Telegraph, Monitor and Trud dailies, as well as the news website Blitz, which are controlled either directly or through proxies by Delyan Peevski, an MP from the parliamentary group of the Turkish minority party, Movement for Rights and Freedoms (MRF).
According to a summary published by OCCRP, the articles allege that Yordanov uses Bivol.bg to publish fake stories to blackmail politicians and business people. The attack pieces allege that Bivol.bg publishes stories about environmental issues to serving the interests of fake eco-activists who pose as people concerned about the environment to extract cash from firms that want to build in the Bulgarian mountains and on the Black Sea coast.
There are allegations saying that Atanas Chobanov is a former Komsomol activist (the youth division of the Bulgarian Communist Party), aspired to a political career, and has links to a businessman whose media strongly oppose Peevski. Some articles insinuate that Chobanov works for foreign intelligence services; and that he lives a luxurious life in Paris where he milks the social welfare system. (The latter allegation is interesting because in 2013, it was Chobanov who uncovered that former planning and investment minister Ivan Danov was collecting €1,800 per month in unemployment benefits in France while working two jobs in Bulgaria.)
The pieces give a thoroughly negative depiction of Chobanov, saying that he is greedy, aggressive, mentally unstable, narcissistic, disliked and unwanted.
The campaign culminated on 10 October, when a crew of the Bulgarian TV Channel 3, a television where Peevski is a co-owner, showed up at the rented apartment in Paris where Chobanov and his family lives.
"I was at the Global Investigative Journalism Conference in Lillehammer, Norway," Chobanov said, adding that the crew did not try to contact him by phone, e-mail or by any other means in advance. The journalist believes they must have known that he was away because he made a public announcement about his upcoming trip and he was tweeting from Lillehammer.
Although Bivol.bg was the target of similar articles in the past, the ongoing campaign started when the investigative news site published proof that Peevski is a shareholder at the Bulgarian cigarette maker Bulgartabac, a former state-owned company that underwent a controversial privatization process in 2011.
Then the journalists started publishing a story about the disappearance of €26 million ($28.3 million) from an EU food aid program for the poor, where the majority shareholders of Bulgaria's First Investment Bank (FIB) were implicated. "After the Bulgarian bank crash, Peevski moved his assets, his credits and deposits to this bank, so this investigation also hurts Peevski's interests," Chobanov said.
Next, Bivol.bg broke "Yaneva Gate", a series of stories based on leaked phone conversations between former Sofia City Court president Vladimira Yaneva and fellow judge Roumyana Chenalova over unlawful surveillance warrants that Yaneva had signed.
In those conversations, the judges mentioned Peevski by his first name, Delyan. "The Prosecutor General, one of the men of Peevski, is also involved," Chobanov pointed out, adding that the story provoked an earthquake in Bulgarian politics, causing justice minister Hristo Ivanov to resign.
"It is a judicial battle now. We are turning to courts to stop the smear campaign, and we are also defending ourselves from legal complaints filed for the investigations we did in the past," Chobanov said.
Reporters Without Borders expressed support and sympathy for Chobanov, condemning the smear campaign directed against him. "We can only condemn what are clearly attempts to intimidate Bivol's journalists," said Alexandra Geneste, the head of the Reporters Without Borders EU/Balkans desk. "Their investigative work is perfectly legitimate and we express our most sincere support and sympathy for them."
The smear campaign orchestrated by the media outlets controlled by Peevski took an unexpected turn when they accused Xavier Lapeyre de Cabanes, the French Ambassador to Bulgaria with unacceptable meddling in Bulgaria's affairs after he shared on Twitter a link to the press release by Reporters Without Borders with the comment: "Press freedom has no borders."
The Bulgarian Association Network for Free Speech also issued a position saying that "the integrity of Bivol's investigations and publications has not been and is not challenged in any way, despite repeated attempts to pressure our colleagues. (…) We have no reason to doubt the good faith of our colleagues, the journalist from Bivol (…)."