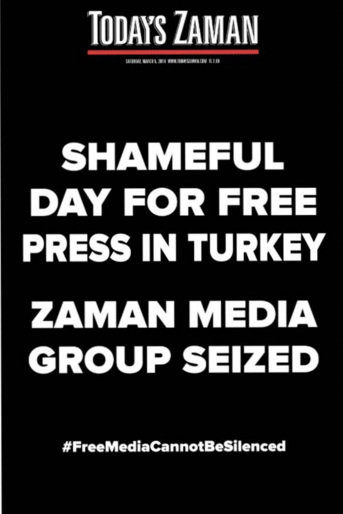 Index on Censorship condemns the seizure by Turkey's courts of the newspaper Zaman, one of the country's highest circulation newspapers.
The move is the latest in a spate of attacks on the free press by the government, which has arrested and detained scores of journalists over the past 12 months.
Last month, Turkey's authorities were forced to release journalists Can Dündar and Erdem Gül after Turkey's Constitutional Court ruled that their rights had been violated by their arrest. Dündar, the editor­-in­-chief of the daily Cumhuriyet, and his Ankara bureau chief, Gül, had been held since the evening of 26 November. They are charged with spying and terrorism because last May they published evidence of arms deliveries by the Turkish intelligence services to Islamist groups in Syria. The charges have not been dropped and the journalists are awaiting trial.
Zaman said in a statement on Friday that administrators had been appointed to run the paper.
"We are going through the darkest and gloomiest days in terms of freedom of the press," the organisation said.
The move highlights how far press freedom has deteriorated in Turkey in recent months. Index has recorded more than 10 press freedom violations over the past month alone and 203 verified violations since May 2014.
"With this move, Turkey has hit a new low for media freedom," said Index on Censorship CEO Jodie Ginsberg. "We now need the international community to help pull it back from the brink by encouraging governments to speak out publicly against these actions instead of turning a blind eye to President Erdogan's creeping authoritarianism."
Ahead of the EU-Turkey meeting on migration next week, it is crucial for the EU to denounce the unprecedented crackdown on media freedom and remind Turkey of its obligations under the European Convention on Human Rights. Any agreement on migration should not undermine the fundamental rights of freedom of expression and freedom of the press.