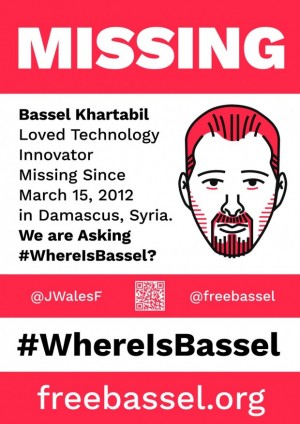 Join the Jimmy Wales Foundation and other organisations, including Index on Censorship, in a day of solidarity, awareness and support for Palestinian-Syrian open access activist Bassel Khartabil.
Khartabil was detained on 15 March 2012, the first anniversary of the Syrian uprising, as he left work in the al-Mezzeh district of the city. He has been in prison for four years, although his exact location is currently unknown.
Khartabil started Syria's first hackerspace in 2010 to help advance the open source movement in the country. He is also known for his work with on free culture projects such as Creative Commons, Wikipedia and Mozilla Firefox.
On 12 November 2015, Khartabil's wife, Noura Ghazi Safadi, reported rumours that her husband had been sentenced to death by the military courts, although the Assad regime has yet to confirm or deny the reports.
On Saturday 19 March people around the world will take to the streets, including at a demonstration at Marble Arch in London, to #FreeBassel. Find the Bassel cutout and take selfies with him and upload it with #WhereIsBassel on social media.
When: 19 March, 2pm
Where: Marble Arch, London (Map)