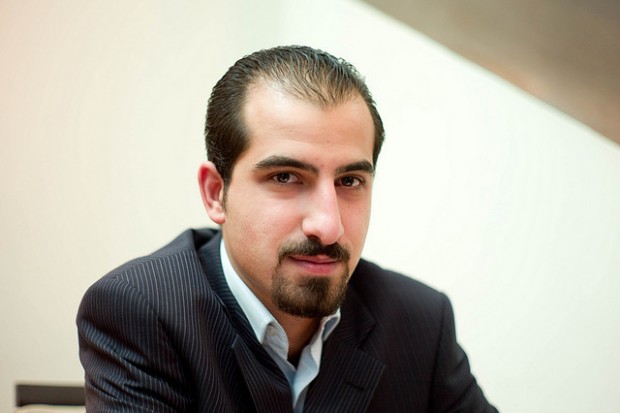 Four years have passed since Palestinian-Syrian software developer Bassel Khartabil (aka Bassel Safadi) was arrested in Damascus. Following the protests that swept the country in 2011, Syria descended into civil war, leading to a conflict which has now claimed over 250,000 lives. Khartabil was detained on 15 March 2012, the first anniversary of the Syrian uprising, as he left work in the al-Mezzeh district of the city.
The online activist was tortured for five days by the regime of Bashar al-Assad, and was then tried without having access to a lawyer by a military court on charges of "harming state security". His trial lasted a matter of minutes.
Back in 2010, Khartabil started Syria's first hackerspace, Aiki Lab, in Damascus. It was a base from which he helped advance the open source movement in Syria. Khartabil is also known for his work on free culture projects such as Creative Commons and Mozilla Firefox, and was an avid contributor and editor to Wikipedia. Prior to his arrest, he was working on software to enable the free flow of information in a country where online communications and networks were closely monitored by the government.
Because of his efforts using technology to promote an open and free internet — especially in Syria, where online censorship is rife and access to knowledge is scant — Khartabil won the 2013 Index on Censorship Digital Freedom Award. In 2012, Foreign Policy magazine named him as one of the top 100 global thinkers.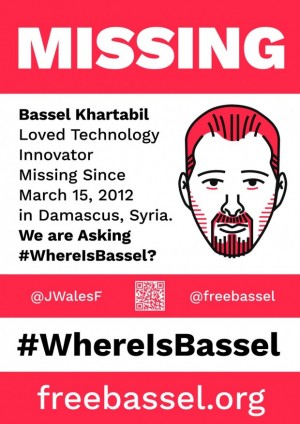 Until 3 October 2015, he was being held at Adra Prison in Damascus by the Syrian government. Without prior warning, he was moved to an unknown location, although there is speculation he may have been transferred to the Military Field Court in Qaboun. On 12 November 2015, Khartabil's wife, Noura Ghazi Safadi, reported rumours that her husband had been sentenced to death by the military courts, although the Assad regime has yet to confirm or deny the reports.
"I've just gotten disturbing and shocking news that Bassel has been sentenced to death. I think this means that the transfer to military prison was very dangerous. I really don't know other news. May God help him, we hope it's not too late. We are worried sick about his life," Ghazi Safadi wrote.
The United Nations Working Group on Arbitrary Detention has deemed Khartabil's imprisonment as arbitrary and in violation of international law. He has already spent four years unlawfully behind bars with very little contact with the outside world. He was married in prison and has spent four birthdays there.
We encourage you to join Index on Censorship in renewed calls for Khartabil's immediate release. On Saturday 19 March, a worldwide demonstration in support of Khartabil will take place, including a protest at Marble Arch in London.
In the run-up to the demonstration, Wikipedia founder Jimmy Wales advocated for Khartabil's freedom. "The current case that I'm really, really campaigning for is the case of Bassel," he said. "It's a huge deal; go out and find out about it, but get involved in all of these cases."
Khartabil's absence has been felt not only by his family but by the communities he has worked so hard to foster. We must not forget the contributions this champion of free speech has made to digital freedoms.

Latest posts by Ryan McChrystal
(see all)