#IndexAwards2016: Ferit Tunç uses inventive methods to challenge censorship in Turkey
08 Apr 2016
BY GEORGIA HUSSEY
Turkish journalist Ferit Tunç quit his advertising job in 2013 to found the newspaper Yön Gazetesi, covering the Kurdish Batman province of Turkey. Since its inception, the newspaper has been the subject of nearly 40 lawsuits, and Tunç has been taken close to bankruptcy.
"Being a journalist in Turkey is very difficult," he told Index. "But being a journalist in the Eastern provinces of Turkey is more difficult, especially these days."
However he has refused to give up fighting for press freedom in Turkey. In protest to the crippling lawsuits – all of which had been eventually dropped – Tunç began to devote his front pages to recipes for traditional Turkish dishes.
The recipes contained references to government corruption and media censorship, with readers were informed about the best way to prepare "governor kebab" and a sherbet treat the paper satirically-titled "deputy's finger."
"They [the authorities] love to eat so we give them recipes. After they understood our protest, they appropriated the newspaper more than before. We will continue our protest until there is a free local media," Tunç said.
The protest gained local and international attention, and Tunç eventually won a three-month sponsorship from a group of local businessmen, allowing Yön Gazetesi to stay open.
In 2015 Tunç also ran as an independent parliamentary candidate in Batman in the June general election.
"In reality, my reason for being a candidate was not to be elected, it was completely a reaction towards those in authority and against the political parties," he said. "During our campaigning our main slogan was "No to Corruption".
Even his campaign van was emblazoned with the demand: "Stop Corruption!".
Tunç believes politics and the media need to be reformed in Turkey: "People feel they're being denied the right to know and discuss local issues, but first, you have to have a form of media that can focus on them without being destroyed."
"Freedom of speech is essential for me and I am of those that believe that there will not be development, happiness and peace in a place without freedom of speech."
Recipe: Governor Kebap

The name of the food that I have given in the recipe is "Governor's Kebap." The Governor's Kebap is one of the most expensive foods we have and the poor have not had much of a chance to eat it. And the small message we are giving through this is that while the poor are unable to eat this food, the rich are only thinking about their stomachs while abusing the rights of the poor and dealing corruptly.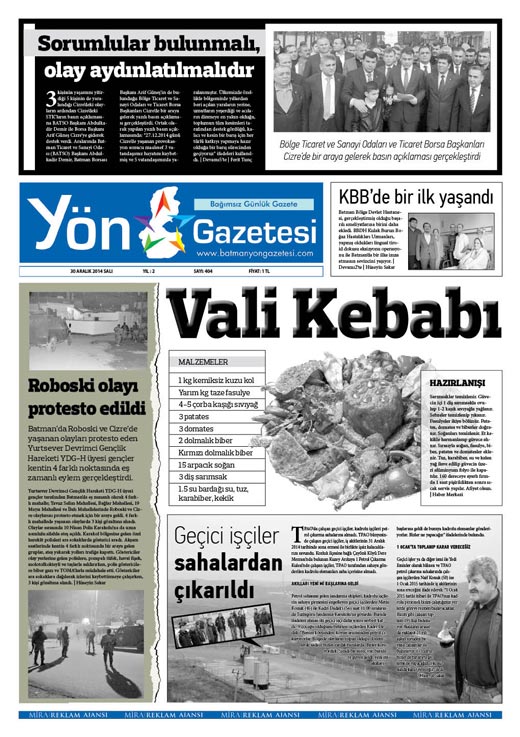 Ingredients:
– 1 kg boneless leg of lamb
– half kg green beans
– 4-5 tablespoons vegetable oil
– 3 potatoes
– 3 tomatoes
– 2 bell peppers
– a red bell pepper
– 15 pearl onions
– 3 garlic cloves
– 1.5 cups water
– Salt, black pepper, thyme
Preparation:
Peel the garlic cloves. Rub the inside of a stew dish (güveç) with one clove of garlic and then grease it with 1-2 tablespoons of vegetable oil. Peel and wash the vegetables. Cut the beans in half. Slice the potatoes, tomatoes, and peppers. Peel the onions.
Coat the meat with thyme and put it in the stew dish (güveç). In order, add onions, beans, peppers, potatoes, and tomatoes. Add the salt, black pepper, water and remaining oil, and then cover the stew dish (güveç) with aluminum foil. Serve hot after cooking it for one hour in an oven set to 160 degrees.
Latest posts by Georgia Hussey
(see all)