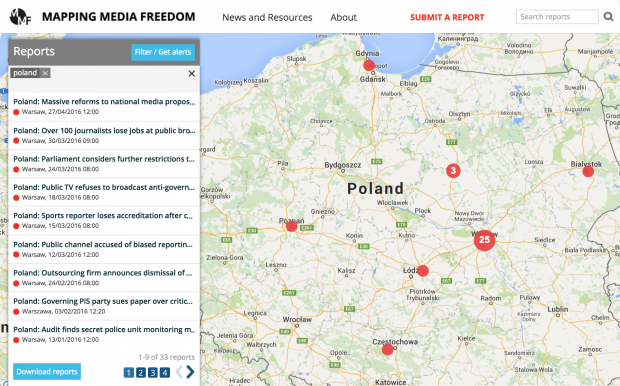 There's no doubt that Poland's media landscape is undergoing a rapid transformation. The country's ranking in the Reporters Without Borders' World Press Freedom Index plunged from 18 in 2015 to 47 in 2016. The government rushed through a law in the waning hours of 2015 that gave it oversight of the nation's public broadcaster. Scores of veteran journalists have lost their jobs.
Further changes may be on the way as new media legislation, the so-called "big media law", is being debated and proposals have been floated to restrict how journalists report from inside the Sejm.
Poland has been all about the "good change" since November 2015. The phrase goes back to a campaign video produced in May 2015 for the Law and Justice (PiS) party's Andrzej Duda. The party went on to win the October 2015 elections and Duda became the sixth president of Poland.
Since the election, "good change" has been co-opted on Twitter as #dobrazmiana by critics opposed to the government's legislation, which, in the case of the public broadcasters, is being implemented by Krzysztof Czabański, a former journalist and minister for culture and national heritage.
As part of the changes, a total of 141 journalists have been dismissed, forced to resign or transferred to lesser positions between the election and May 2016, according to journalist union Towarzystwo Dziennikarskie (TD). The "small media law" passed in late December 2015 meant the replacement of the managing board of public broadcasters TVP and Polskie Radio, which started a top-down dismissal process that is still ongoing.
Among the first wave of dismissals was Tomasz Lis, a TVP presenter who hosted a talk show and was a winner of the annual Hyena of the Year, an anti-prize for unreliability and disregard for the principles of journalistic ethics. The prize is awarded by the journalist union Stowarzyszenie Dziennikarzy Polskich (SDP), which is generally rather supportive of PiS. Teresa Bochwic, a member of the SDP management board, expressed a characteristic view in her assessment of the "good change": "For better or for worse, the lying propaganda has stopped for good. On TV, there is regular information and pluralistic current affairs. Pro-governmental? Perhaps even sometimes pro-governmental, but at least not deceitful."
Even among the sympathetic SDP, however, PiS' moves towards increased restriction on the movement of journalists and the dismissal of Henryk Grzonka from Radio Katowice, where he had worked for almost 30 years and had recently served as editor-in-chief, has raised concerns.
TD, the youngest of Poland's journalist unions, was founded in 2012 out of the realisation that "in journalism, we can no longer be together", according to co-founder Seweryn Blumsztajn.
In an interview with Index on Censorship, TD co-founder Wojciech Maziarski said that the recent dismissals have the character of "political cleansing", which started progressively from the top, and then moved gradually to the lower ranks of what he considers to be state media.
"The ones to bite the bullet first were journalists and editors of news and current affairs programmes, as they…have the biggest influence on public opinion," he said.
"The state media is intended to shape citizens of the new, right-wing Poland, which means that gradually, all will be replaced who are associated with liberal thought, feminism, left-wing ideas, even if they don't engage directly in topical political debates," Maziarski added.
Apart from Lis and several other well-known personalities, dismissals included Dariusz Łukawski, vice-chair of the journalist section of TVP2, and lead correspondent Piotr Krasko at TVP1's main news outlet Wiadomosci.
Later, the axings reached media workers from various programmes and ranks, which could also explain more recent dismissals or transfers in regional branches of the public TV and radio broadcasters. Throughout March and April, more cases emerged: Marta Bobowska from TVP Opole had to put down her work and leave mid-day on 12 April; and Wojciech Biedak, editor at Poznan's Polskie Radio affiliated Radio Merkury.
According to Maziarski, the number of dismissals shows that state authorities view the media as "a frontline in a political war – and this line has to be stacked with trusted and tried soldiers", which necessitates the exclusion of "not only critical journalists but everyone who thinks independently".
This may have been the issue for TVP Info editors Izabela Leśkiewicz and Magdalena Siemiątkowska, who were dismissed from their posts in mid-March immediately after a dispute with station management. Leśkiewicz and Siemiątkowska disagreed with the portrayal of the anti-PiS NGO the Committee of Democratic Defence (KOD) in a segment to be aired. KOD was founded following PiS's electoral success in late 2015 and has since been actively rallying public opinion to protest government policy around the country.
Monitoring body KRRiT has repeatedly accused TVP of bias in its reports on the civil society organisation. The day before another KOD demonstration, the managing board of TVP Info decided it would not air a live broadcast of the beginning of the march, and specific narratives on "how KOD is hating on normal citizens" would be shown instead. Leśkiewicz and Siemiątkowska were dissatisfied with this and offered an alternative, more nuanced programme set-up. TVP Info management then fired the pair. Two other TVP journalists, Agata Całkowska and Łukasz Kowalski, resigned in protest.
Currently, new media legislation is being considered in parliament. This draft law would amount to a structural and financial overhaul of the public broadcaster. Under the draft, heads of the new "national media" outlets would be "appointed by a six-person National Media Council elected by the lower house of parliament, the Senate and the president for a six-year term" with one of the council slots legally guaranteed for the largest opposition caucus, according to Radio Poland. The proposed law would also replace the current license fee with a monthly "audiovisual" charge added to Poles' electric bills beginning in January 2017.
Unlike Poland's three other journalists' unions, Towarzystwo Dziennikarskie is boycotting the draft media law consultation being conducted by the minister for cultural affairs. Maziarski explains the union's standpoint: "A big problem for public media in Poland is their financing. The introduction of a general audio-visual fee has been one of the main demands of the journalist environment. However, the fee introduced through the proposed law is intended to serve the maintenance of an indoctrination machinery and the PiS propaganda rather than public media. In effect, public media in Poland have ceased to exist."