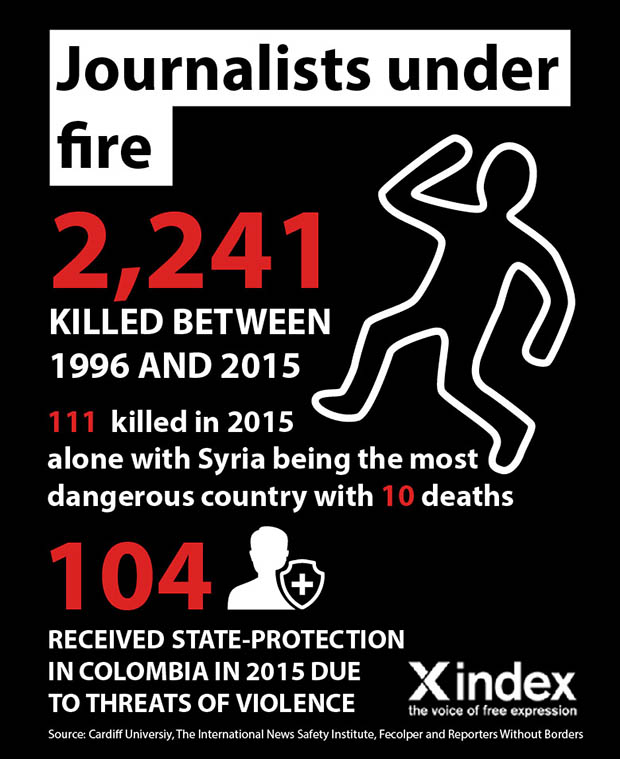 The truth is in danger. Working with reporters and writers around the world, Index continually hears first-hand stories of the pressures of reporting, and of how journalists are too afraid to write or broadcast because of what might happen next.
In 2016 journalists are high-profile targets. They are no longer the gatekeepers to media coverage and the consequences have been terrible. Their security has been stripped away. Factions such as the Taliban and IS have found their own ways to push out their news, creating and publishing their own "stories" on blogs, YouTube and other social media. They no longer have to speak to journalists to tell their stories to a wider public. This has weakened journalists' "value", and the need to protect them. In this our 250th issue, we remember the threats writers faced when our magazine was set up in 1972 and hear from our reporters around the world who have some incredible and frightened stories to tell about pressures on them today.
Around 2,241 journalists were killed between 1996 and 2015, according to statistics compiled by Cardiff University and the International News Safety Institute. And in Colombia during 2015 104 journalists were receiving state protection, after being threatened.
In Yemen, considered by the Committee to Protect Journalists to be one of the deadliest countries to report from, only the extremely brave dare to report. And that number is dwindling fast. Our contacts tell us that the pressure on local journalists not to do their job is incredible. Journalists are kidnapped and released at will. Reporters for independent media are monitored. Printed publications have closed down. And most recently 10 journalists were arrested by Houthi militias. In that environment what price the news? The price that many journalists pay is their lives or their freedom. And not just in Yemen.
Syria, Mexico, Colombia, Afghanistan and Iraq, all appear in the top 10 of league tables for danger to journalists. In just the last few weeks National Public Radio's photojournalist David Gilkey and colleague Zabihullah Tamanna were killed in Afghanistan as they went about their work in collecting information, and researching stories to tell the public what is happening in that war-blasted nation. One of our writers for this issue was a foreign correspondent in Afghanistan in 1990s and remembers how different it was then. Reporters could walk down the street and meet with the Taliban without fearing for their lives. Those days have gone. Christina Lamb, from London's Sunday Times, tells Index, that it can even be difficult to be seen in a public place now. She was recently asked to move on from a coffee shop because the owners were worried she was drawing attention to the premises just by being there.
Physical violence is not the only way the news is being suppressed. In Eritrea, journalists are being silenced by pressure from one of the most secretive governments in the world. Those that work for state media do so with the knowledge that if they take a step wrong, and write a story that the government doesn't like, they could be arrested or tortured.
In many countries around the world, journalists have lost their status as observers and now come under direct attack. In the not-too-distant past journalists would be on frontlines, able to report on what was happening, without being directly targeted.
So despite what others have described as "the blizzard of news media" in the world, it is becoming frighteningly difficult to find out what is happening in places where those in power would rather you didn't know. Governments and armed groups are becoming more sophisticated at manipulating public attitudes, using all the modern conveniences of a connected world. Governments not only try to control journalists, but sometimes do everything to discredit them.
As George Orwell said: "In times of universal deceit, telling the truth is a revolutionary act." Telling the truth is now being viewed by the powerful as a form of protest and rebellion against their strength.
We are living in a historical moment where leaders and their followers see the freedom to report as something that should be smothered, and asphyxiated, held down until it dies.
What we have seen in Syria is a deliberate stifling of news, making conditions impossibly dangerous for international media to cover, making local news media fear for their lives if they cover stories that make some powerful people uncomfortable. The bravest of the brave carry on against all the odds. But the forces against them are ruthless.
As Simon Cottle, Richard Sambrook and Nick Mosdell write in their upcoming book, Reporting Dangerously: Journalist Killings, Intimidation and Security: "The killing of journalists is clearly not only to shock but also to intimidate. As such it has become an effective way for groups and even governments to reduce scrutiny and accountability, and establish the space to pursue non-democratic means."
In Turkey we are seeing the systematic crushing of the press by a government which appears to hate anyone who says anything it disagrees with, or reports on issues that it would rather were ignored. Journalists are under pressure, and so is the truth.
As our Turkey contributing editor Kaya Genç reports on page 64, many of Turkey's most respected news outlets are closing down or being forced out of business. Secrets are no longer being aired and criticism is out of fashion. But mobs attacking newspaper buildings is not. Genç also believes that society is shifting and the public is being persuaded that they must pick sides, and that somehow media that publish stories they disagree with should not have a future.
That is not a future we would wish upon the world.
Order your full-colour print copy of our journalism in danger magazine special here, or take out a digital subscription from anywhere in the world via Exact Editions (just £18* for the year). Each magazine sale helps Index on Censorship fight for free expression worldwide.
*Will be charged at local exchange rate outside the UK.
Magazines are also on sale in bookshops, including at the BFI and MagCulture in London, Home in Manchester, Carlton Books in Glasgow and News from Nowhere in Liverpool as well as on Amazon and iTunes. MagCulture will ship anywhere in the world.