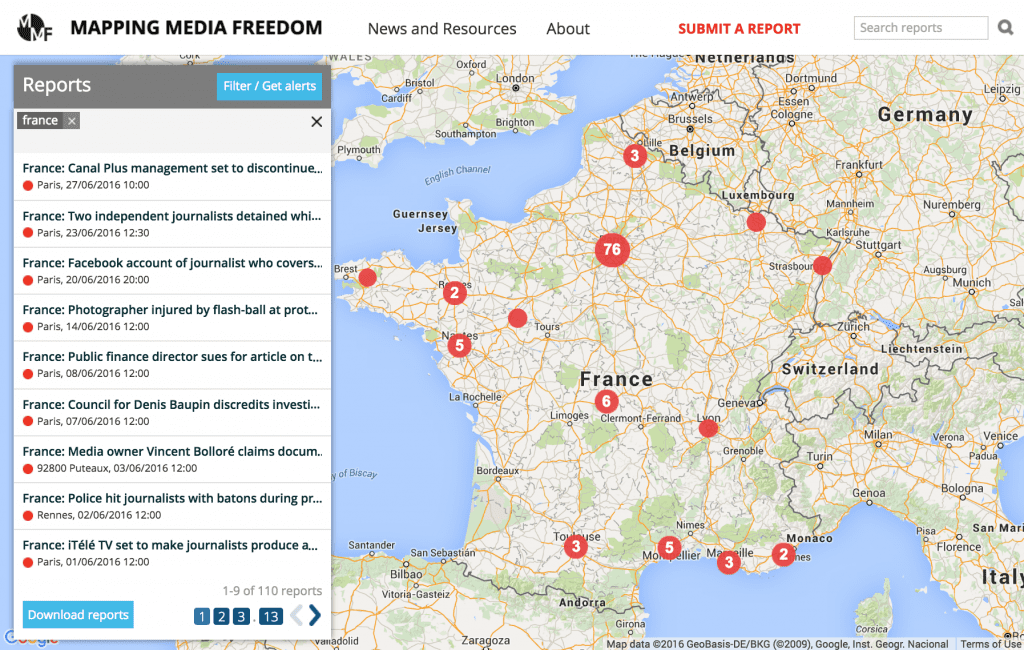 In almost four months covering protests against France's labour reform bill, a number of journalists in the country have faced intimidation, detention and injury. Others have had their equipment broken or been physically prevented from doing their job.
On 9 April, a group of protesters threatened journalists in Rennes. The following month, a journalist working for Le Figaro newspaper was hurt by a projectile, likely to have been thrown by a protester and aimed at the police.
However, there have been more reports of violence against journalists being perpetrated by police forces. On 5 April, a Mediapart journalist reported that a member of the police force tried to break his phone while he was filming a violent arrest at a protest in Paris. On 10 May, a journalist who works for Les Inrockuptibles was hurt by a grenade launched by riot police during a protest in Paris. Six days later, it was alleged that an Agence France Presse journalist had their camera broken by a police officer while filming an arrest.
Journalists have also been attacked with batons and one as hurt by a Flash-Ball gun. On 23 June, two independent journalists, including Gaspard Glanz from Teranis News, were detained for hours in a police van while on their way to cover a protest in Paris.
"I didn't think this could happen in France," Julie Lallouet-Geffroy, an administrator for Club de la Presse de Rennes et de Bretagne and journalist for Reporterre, told Index on Censorship.
Club de la Presse de Rennes et de Bretagne, a press club based in the city of Rennes, Brittany, has been particularly active in denouncing violence against journalists covering the local protests. After journalists were attacked in Rennes on 2 June, the group took the case to France's constitutional ombudsman for citizens' rights and met with the interior minister.
Lallouet-Geffroy told Index what happened when journalists were caught in the middle of the clash between police and protesters. "Police forces first hit an independent photographer, then they hit Vincent Feuray [a contributor to Libération]," she said. "He fell to the ground unconscious and remained unconscious for a few seconds."
Lallouet-Geffroy said she was also shoved by police.
She told Index that meetings with journalists at the club resemble "group psychotherapy": "Journalists often won't talk about this type of incidents – they consider it's just behind-the-scenes stuff. But soon you realise that journalists working for very established media outlets, such as AFP or France 3, who have a 12kg camera on the shoulder, are teargassed at point-blank range. What really struck me is the banalisation of such violence."
Reporterre recently published a report on police violence against protesters, which includes a few pages on cases where journalists were targeted. "What's disconcerting is this litany of violence in all French cities, with the same words and the same incidents reappearing while police forces are supposed to protect citizens," said Lallouet-Geffroy.
The emergence of new journalists and new media outlets that occupy a grey zone between journalism and activism has been seen as disconcerting for some.  
"There are young journalists who will go on the hotspots, taking risks that journalists who have a steady job won't take," Lallouet-Geffroy said. "Sometimes it feels like they are cannon fodder, particularly isolated, with no outlet to have their back if they get in trouble or if they are sued for libel. Some of the images they get are really valuable, though."
Teranis News recently published an "encyclopaedia of police violence", to show force being used against protesters.
The deteriorating relationships between French police and young people continues to be a problem. It was announced on 29 June in the National Assembly that a plan to issue written receipts to people stopped by police, which organisations fighting police violence have long campaigned for, would not be implemented. A popular chant among French protesters remains: "Tout le monde déteste la police" ("Everybody hates the police").
---
Mapping Media Freedom

Click on the bubbles to view reports or double-click to zoom in on specific regions. The full site can be accessed at https://mappingmediafreedom.org/
---
Latest posts by Valeria Costa-Kostritsky
(see all)