Index recently appointed a new youth advisory board cohort. The eight young students and professionals, from countries including Hungary, Germany, India and the US, will hold their seats on the board until December.
Each month, board members meet online to discuss freedom of expression issues occurring around the world and complete an assignment that grows from that discussion. For their first task the board were asked to write a short bio and take a photo of themselves holding a quote that reflects their belief in free speech.
Sophia Smith-Galer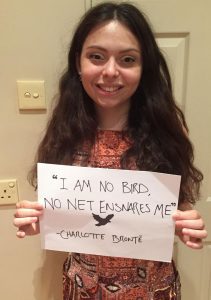 I'm half English, half Italian, and was born and raised in London.  I have just graduated from Durham University with a degree in Spanish and Arabic and will be studying for a Master's in broadcast journalism at City University next year.
I have just returned from a trip to New York after winning a multilingual world essay prize which included speaking at the United Nations' General Assembly. I was in the group of Arabic language winners and our speeches were about tackling climate change, which is one of the UN's sustainable development goals for 2030. Now that I am embarking on a career in journalism I'm looking forward to continue supporting these goals in my work.
Freedom of expression is particularly important to me as several countries that speak both of the languages I have dedicated years of study to continue to be plagued by tyrants and censors.  I'm particularly interested addressing censorship in Latin America and the Middle East, especially with regard to the arts, as I'm also a classical singer and keen art historian.
Shruti Venkatraman
Originally from Mumbai, I am currently a first year undergraduate studying law at the University of Edinburgh. As a law student, I am interested in advocacy in general, but I am particularly interested in advocating for fundamental human rights.
In today's socio-political context, the phrase "freedom of expression" has gained importance and expanded in its meaning from it's original intent to prevent minority persecution. Having lived in India and South Africa, I was able to grasp the importance of free speech in the context of regional history, and I learnt how human rights appeals have had local and global impacts and are inherently tied with social development. Index on Censorship's admirable work to promote and defend freedom of expression highlights how important this cause is in our quest for social progress, justice and equality and how repression of these rights result in societal backwardness.
Niharika Pandit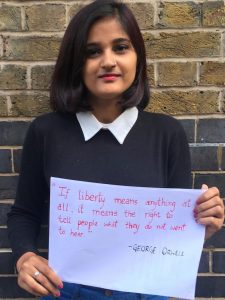 I am currently a master's candidate at the Centre for Gender Studies at SOAS, University of London with South Asia as my focus area of gender research. I became interested in issues of censorship during my undergraduate studies in mass media with a specialisation in journalism from Bombay.
As a journalist and an active social media user in India, I was witness to numerous instances of online abuse, trolling and silencing of women politicians, journalists and activists who voiced opinions on political and social issues. As a response to the barrage of abuse in the online space, otherwise a liberating space to hear diversified opinions, I wrote a piece on Twitter trolls in India and the use of sexist abuse as a tool to muzzle women for Index on Censorship's Young Writers' Programme.
Within censorship, I am particularly interested in working on the intersections of social media, gender along with looking at censorship in militarised zones and its growing legitimacy in contemporary political ethos as part of my research.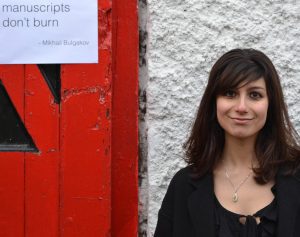 Layli Foroudi
It was studying literary works from the Soviet period during my undergraduate degree that highlighted the issue of censorship for me initially. Clearly this issue has outlived (and predates) the Soviet Union and is still of pressing concern in Russia today and globally. After graduating, I worked as a journalist on issues of freedom of expression and belief in Iran, and then in Russia at the Moscow Times. By pushing a state-sponsored version of the truth and punishing those at variance with it, these countries and others marginalise people and stifle innovation and creativity.
Freedom of expression and public debate underpin what society consists of and being denied this freedom is being denied the right to participation in society, as Hannah Arendt wrote: the polis is "the organisation of people as it arises out of acting and speaking together". Historically, many have been denied the right to "act and speak", based on ethnicity, gender, belief, immigration status, etc, and continue to be. I am interested in encouraging a diversity voices in the public sphere, something I have enjoyed exploring more this past year while undertaking an MPhil in race, ethnicity, and conflict at Trinity College Dublin and as a member of the youth advisory board since January.
Ian Morse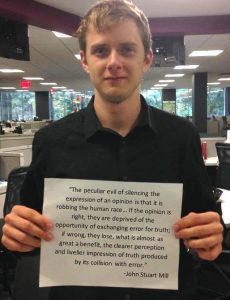 I'm a student and journalist at Lafayette College in the US, but I have studied in Germany, Turkey and the UK. I really started studying news media when I lived in Turkey 18 months ago, because even then (much more so now) journalists and bloggers had a very tough time gathering and publishing good information. Since then, I've been a journalist in Turkey, the UK and Greece. I study history and mathematics-economics, but almost every project I do is focused on news media.
I've encountered freedom of expression violations in many fashions, from student pressures against speakers to petty government retaliation to Twitter blocking. There is quite a bit of nuance that is overlooked in many cases, but that nuance is needed to understand where the line needs to be drawn. Words have a lot of power in society – but it is often difficult to get the truth out when lies are louder or gags are stronger. I hope with Index that we can find ways to fix this.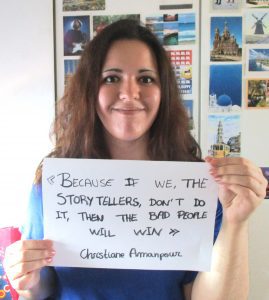 Anna Gumbau
I am a journalist living between Barcelona and Brussels. I am passionate about youth work, having volunteered for five years as member of AEGEE-Europe / European Students' Forum, including a year as member of its international board. I have taken part in, and often led projects, run by students for other students all over Europe, on topics such as pluralism of media, election observation and media literacy. I am also involved in the field of internet governance, participating in the last two editions of the EuroDIG and joining the Youth Observatory of the Internet Society.
As a young media-maker who grew up listening to the stories of censorship in the times of the Spanish dictatorship, I believe strongly in free speech, a free press and media pluralism as essential pillars for democracy. I am fascinated by the power of words and freedom of expression to empower citizens and stand up to what they believe in. I also envision free media as a crucial element for better informed societies and, in extension, for more responsible individual citizens to participate in the public space.
Constantin Eckner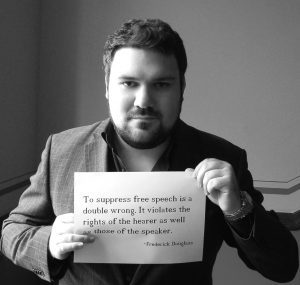 I am originally from Germany. I graduated from University of St Andrews with a master's degree in modern history. Currently, I am a Ph.D. candidate specialising in human rights, asylum policy and the history of migration. Moreover, I have worked as a writer and journalist since I was 17 years old, covering a variety of topics over the years. Longer stays in cities like Budapest and Istanbul have raised my awareness for pressures exerted upon freedom of expression.
In a perfect world journalists, as well as every citizen, would live without fear of state censorship and potentially facing repercussions for the words they write or speak, for the pictures they draw, for the photos they shoot or for music they play.
Freedom of expression and access to information are cornerstones of an enlightened society. Unfortunately, in 2016 the world is still challenged by undemocratic regimes and powers that intend to quash people, which is an oppressive situation that has to change. It is up to us to help those who cannot raise their voice fearlessly.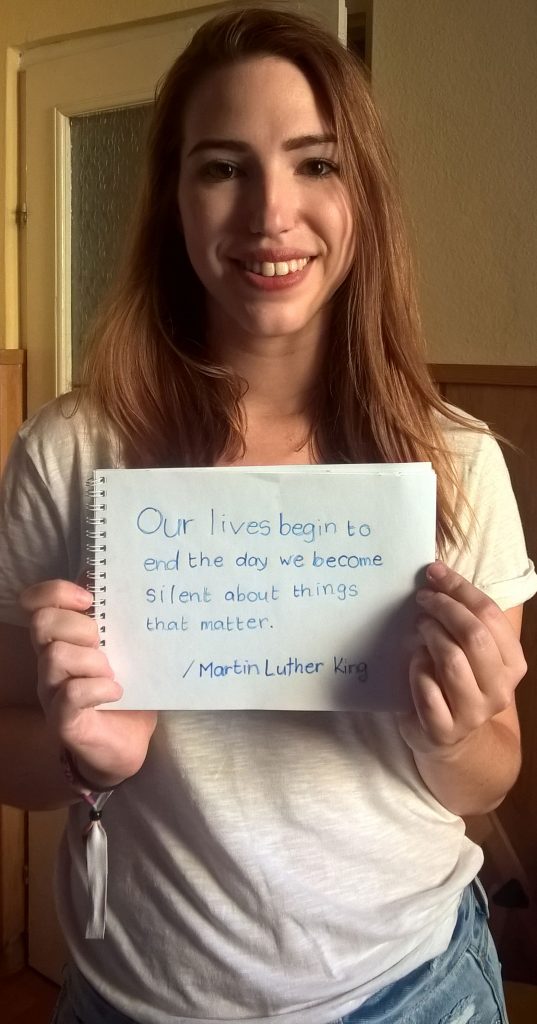 Fruzsina Katona
I was born and raised in Hungary, although I spent my pre-university years in a small town in eastern Hungary. Today I am a freelance journalist.
I always knew I wanted to be a journalist, since I was always interested in literally everything that surrounded me. The urge to publish became stronger at the age of 17, after I returned from Japan, where I spent a school year. That one year made me realise, that my home country is really far from the image I had of it. And the only way I can fight against corruption, abuses and narrow-mindedness – apart from voting – is to educate and inform the public. I took an internship at Hungary's leading investigative journalism center, and 2015 Index on Censorship Freedom of Expression award-winner, Atlatszo.hu. I have worked for them as a freelancer ever since, and I enjoy my work pretty much.
I recently received a graduate degree in communication and media studies, and supplemented my "official" studies with training, workshops and conferences across Europe.
In the future I would like to be a post-conflict reporter or a human rights journalist, specialising in freedom of expression and the press.
Latest posts by Josie Timms
(see all)