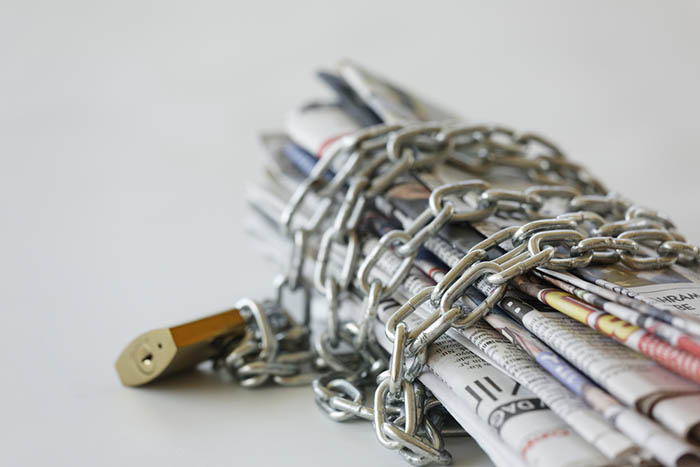 Each week, Index on Censorship's Mapping Media Freedom project verifies threats, violations and limitations faced by the media throughout the European Union and neighbouring countries. Here are five recent reports that give us cause for concern.

30 August 2016 – The home of veteran journalist and Index contributor Yavuz Baydar was raided by the police, the journalist reported via Twitter.
The raid came shortly after detention warrants were issued for 35 people including 27 journalists. As of 30 August, of the 27 journalists sought nine have been detained in Turkey while 18 other journalists are reportedly abroad.
Also read by Baydar: Turkey: Losing the rule of law
28 August 2016 – At around 10pm an unidentified individual threw a hand grenade at the house of Mentor Shala, the director of Kosovo's public broadcaster RTK.
Shala and his family were inside at the time. No casualties were reported but according to the RTK director the explosion was strong and that it had shocked the whole neighbourhood.
Kosovo's police are investigating the case, which is the second attack on national broadcaster RTK within a week. On 22 August 2016 an explosive device was thrown at the broadcaster's headquarters.
President Hashim Thaci has condemned the attack. "Criminal attacks against media executives and their families threaten the privacy and freedom of speech, and at the same time seriously damage the image of Kosovo," he told RTK.
Both attacks were claimed by a group called Rugovasit, which said in a written statement to RTK that the attack was "only a warning".
Rugovasit blames RTK journalist Mentor Shala for only reporting the government's perspective. "If he does not resign from RTK, his life is in danger," they said.
27 August 2016 – Journalist and founder of news agency Novy Region, Alexander Shchetinin, was found dead in his apartment in Kiev.
The National Police confirmed in a statement that "a man with a gunshot wound to the head was discovered on the balcony". He reportedly died between 8-9.30pm.
Police found cartridges, a gun and a letter at the scene. "The doors to the apartment were closed, the interior looks intact," police reported.
"Until all the facts are established, until the examination and forensic examination is complete, we are investigating it as a murder," said Kiev police chief Andrey Kryschenko. "The main lines of enquiry are suicide and connections with his professional activities."
The Russian-born journalist had lived in the Ukrainian capital since 2005. He was often critical of the Russian government. In 2014, he refused Russian citizenship, later joined the National Union of Journalists of Ukraine.
20 August 2016 – Faeces was poured onto the prominent Russian journalist Yulia Latynina, who works for independent newspaper Novaya Gazeta and hosts a programme called Kod Dostupa at radio station Echo of Moscow.
According to Latynina, the incident took place close to the radio's office at Novy Arbat in central Moscow. An unidentified individual in a motorcycle helmet perpetrated the attack, while his accomplice was waiting for him at a motorcycle nearby. The unidentified individuals fled the scene.
Latynina told Echo of Moscow that it was the 14th or the 15th time she has been attacked. She believes the assailants had been following her for a long time as they seemed to know her daily commute and where she parks her car.
Latynina also believes the incident is connected to her Novaya Gazeta investigations into billionaire Evgeny Prigozhin, who is close to Russian President Vladimir Putin. According to Latynina's investigations, Prigozhin has orchestrated mass trolling on opposition activists in Saint Petersburg.
22 August 2016 – A prosecutor has asked for a three-month prison sentence for Faig Amirli, the director of the newspaper Azadliq, Radio Free Europe's Azerbaijan Service.
Amirli's lawyer declared that his client is being charged for spreading national and religious hatred, along with promoting religious sects and disturbing public order by performing religious activities.
Amirli was detained by a group of unidentified individuals on 20 August. At the time, his whereabouts were unknown while his house was searched by the representatives of Grave Crimes Unit.
Police claim they found literature related to Fethullah Gülen, the alleged orchestrator of the attempted coup in Turkey, in Amirli's car.
His arrest is considered part of a new crackdown in Azerbaijan ahead of the September's constitutional referendum.
Also read: Azadliq: "We are working under the dual threat of government harassment and financial insecurity"

Latest posts by Ryan McChrystal
(see all)