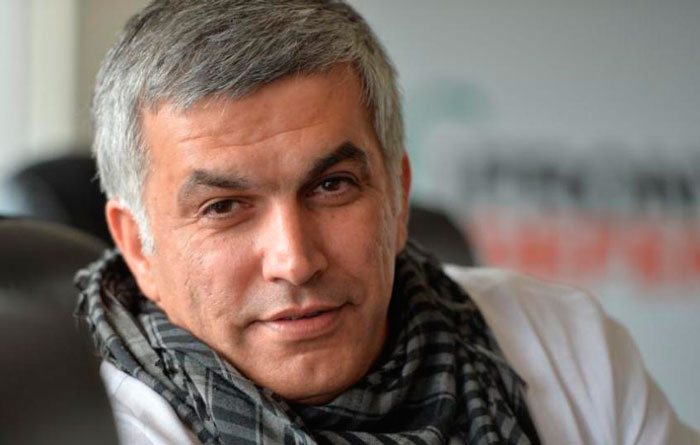 A Bahraini high criminal court has postponed the sentencing of leading human rights defender Nabeel Rajab, who faces up to 15 years in prison for messages posted on Twitter.
Rajab, the president of the Bahrain Center for Human Rights, is on trial on multiple charges of "disseminating false rumors in time of war", "insulting a neighboring country" and "insulting a statutory body" under articles 133, 215 and 216 of the penal code. The charges collectively carry up to 15 years in prison. These are in relation to remarks he tweeted and retweeted on Twitter in 2015 about the humanitarian crisis caused by the Saudi-led war in Yemen – with Saudi Arabia the "insulted" country – and documenting torture in Bahrain's Jau prison.
In September, Bahrain's prosecution brought new charges against him for "undermining the prestige of the state" after the New York Times published his opinion piece, Letter from a Bahraini Jail. This charge could carry an additional year.
Back in January 2014, when Stephen Colbert asked Human Rights Watch executive director Ken Roth who the next Nelson Mandela would be, Roth named Nabeel Rajab. This week, Human Rights Watch writes: "Is it right or trite to compare Rajab to Mandela? That's a matter for debate, but it's certainly reasonable to compare states' deification of one activist with their silence over another, and Mandela – a vocal supporter of free expression – would surely have seen the double standard."
HRW's Roth hit out again on Twitter yesterday: "He's Bahrain's Nelson Mandela but the West doesn't show anywhere near the same concern for his plight."
Last month, 22 rights groups wrote to 50 countries urging them to call for Rajab's release. All 50 states, including the UK, had previously raised concerns over Bahrain's human rights situation. However, until now only the United States has called for Nabeel Rajab's release. The EU's Special Representative for Human Rights Stavros Lambrinidis said yesterday on Twitter: "In Bahrain, the EU closely follows tomorrow Nabeel Rajab's trial. Hope for his release from jail and commencement of national reconciliation efforts."
Husain Abdulla, Executive Director, Americans for Democracy & Human Rights in Bahrain: "When countries go silent on Nabeel Rajab's imprisonment because of the Gulf's strategic importance, that is short-sighted and shameful. The US has talked a good talk on Nabeel: now let's see them act on it."
The UK has made no clear statement on Nabeel Rajab, apart from expressing "concern". In November, Prince Charles will be visiting Bahrain, as well as Oman and the United Arab Emirates, to improve bilateral relations.
Sayed Ahmed Alwadaei, Director of Advocacy, Bahrain Institute for Rights and Democracy: "British silence will consign Rajab to this fate. The UK could have intervened, criticised the situation or called for an end to this flagrantly unfair trial on countless occasions, and so far they have failed to step up every single time. This act of repression is not just the fault of Bahrain, but the fault of every ally which enables Bahrain to continue in this way."
In September, the UN High Commissioner for Human Rights used his opening statement at the 33rd session of the Human Rights Council (HRC) to warn Bahrain: "The past decade has demonstrated repeatedly and with punishing clarity exactly how disastrous the outcomes can be when a Government attempts to smash the voices of its people, instead of serving them." Today's sentencing is yet another case of the Bahraini government attempting to smash those voices.
Rajab has been held in pre-trial detention since his 13 June 2016 arrest, which coincided with the opening of the June session of the HRC. He was initially held in East Riffa, where police kept him in solitary confinement. After 15 days in solitary – which the UN's top expert judges may amount to torture – he required urgent medical attention. Rajab was rushed to the Bahrain Defence Force hospital with breathing difficulties, an irregular heartbeat and a weak immune system. He was transferred back to a police station for detention the following day.
Since 2011, Rajab has faced multiple prosecutions and prison sentences for his vocal activism. The state banned him from travel in 2014, preventing him from leaving the country.
More about Nabeel Rajab:
6 Oct: Join us to tell the UK to help free Bahraini Nabeel Rajab
Bahrain: Nabeel Rajab put in isolation ahead of 6 October trial
Rights groups urge 50 nations to call for Nabeel Rajab's release