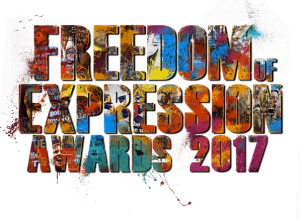 Index on Censorship is delighted to announce CNN as its media partner for the 2017 Freedom of Expression Awards.
The awards, now in their 17th year, honour those at the forefront of tackling censorship in the field of arts, campaigning, digital advocacy and journalism. Many of the winners face regular persecution for their work, including jail, death threats or harassment.
Award winners are honoured at a gala ceremony in London in April and receive training, promotion and year-long assistance from Index as part of their prize.
Judges for this year's awards include Harry Potter actor Noma Dumezweni, former Vanity Fair editor Tina Brown and award-winning lawyer Caoilfhionn Gallagher, who represented the families of the victims of the Hillsborough football disaster.
"The media is under threat throughout the world – and not just from 'traditional' enemies," said Jodie Ginsberg, Index on Censorship chief executive. "In Europe, journalists and journalism organisations are under severe pressure. Governments are widening surveillance powers and national security laws in a way that makes investigating corruption and malpractice ever more difficult. In the United States, the language coming from those at the top is painting the media as the enemy."
"Given the pressures facing the media, it's great to be working with an organisation that understands and recognises these threats through its work internationally," she added.
"CNN is proud to support journalism through our extensive affiliate network of over 1,100 broadcast and digital publishers worldwide," said Greg Beitchman, Vice President, Content Sales and Partnerships, CNN International Commercial. "We admire the work done by the Freedom of Expression Awards and look forward to being part of this important initiative to recognise vital journalism done all over the world."
In addition to CNN, VICE News has also renewed its sponsorship of the Index awards. In 2016, VICE News journalists Philip Pendlebury and Jake Hanrahan presented the Freedom of Expression Award for Journalism to Zaina Erhaim, a Syrian-based journalist training female reporters. Index had campaigned for Phil and Jake's release and that of their colleague Mohammed Rasool after they were arrested and imprisoned by Turkish authorities on charges of assisting a terrorist organisation.
Neil Breakwell, London Bureau Chief, VICE News said: "VICE News is proud to support the Index on Censorship awards and the courageous work of journalists, many of whom risk their lives daily to bring us the news."
He added: "2016 has seen an alarming increase in the arbitrary arrests of reporters, the silencing of dissenting news outlets and threats of violence to media workers around the world. Impartial, fact-based journalism has never been more important and neither has the work of those, like Index, who strive to protect it."
Previous winners of the Freedom of Expression awards include Nobel Peace Prize winner Malala Yousafzai, Israeli conductor Daniel Barenboim and Russian journalist Anna Politkovskaya. Hundreds of public nominations are made for the awards each year. Many of those nominated are regularly targeted by authorities or by criminal and extremist groups for their work.
The shortlist for the 2017 awards will be announced in early 2017 and the winners will be announced on 19 April at the Unicorn Theatre, London.
For more information, please contact: Sean Gallagher – [email protected].
Notes for editors
Index on Censorship, founded in 1972 by poet Stephen Spender, campaigns for freedom of expression worldwide. Its award-winning quarterly magazine has featured writers such as Vaclav Havel, Nadine Gordimer, Arthur Miller, Philip Pullman, Salman Rushdie, Aung San Suu Kyi and Amartya Sen.
Award winners become Index on Censorship Freedom of Expression Award Fellows and receive training and support for a year after the awards to help them maximise the impact of their work.