[vc_row][vc_column][vc_column_text]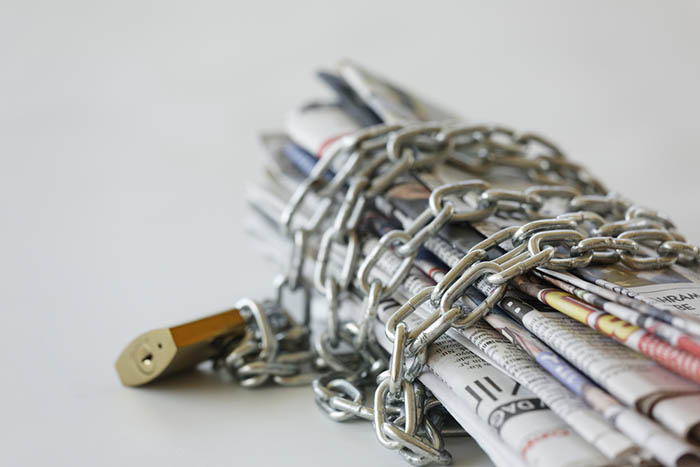 Each week, Index on Censorship's Mapping Media Freedom project verifies threats, violations and limitations faced by the media throughout the European Union and neighbouring countries. Here are five recent reports that give us cause for concern.
Police detained Aleksandra Ageyeva, a correspondent for the media outlet Sota Vision, at a mass demonstration near the Russian Constitutional Court building on 24 January.
According to Ageyeva, she was detained while filming the detainment of a demonstrator who was protesting against the imprisonment of opposition human rights activist Ildar Dadin.
Dadin is the first Russian citizen to be convicted for a "repeated violation" under a new law on mass rallies and meetings by peacefully protesters. He is currently serving a two-and-a-half year prison sentence and claims that his captors repeatedly abuses him.
A total of four protesters were detained along with Ageyeva at the scene. The police explained that the demonstrators were detained because they were supposedly jaywalking. Ageyeva spent around 11 hours in police custody.
The General Prosecutor's Office of Belarus ruled to extradite Alexander Lapshin, a Russian-Israeli travel blogger to Azerbaijan, on 20 January.
On 15 December 2016 he was detained in Minsk on an extradition request from Azerbaijan, where he is wanted for visiting the disputed region of Nagorno-Karabakh and for criticising Azerbaijani policies.
A criminal case under two articles of the criminal code was filed in Azerbaijan which, if convicted, can lead to a prison sentence from five to eight years.

Lisa Giachino, editor-in-chief of the environmental magazine L'âge de faire, was arrested on 20 January at the border with Italy in the Roya valley, as she was following migrants for a story, news website Basta reported.
She is believed to have been kept in custody since 5am for "assisting migrants at the border," and because she does not have a press card the police have refused to believe she is a journalist.
According to Nice Matin newspaper, Giachino was following six migrants for the story.
Giachino was later freed. She told Libération: "[Police officers] told me: 'If we see you again with migrants, careful!' It's not normal to tell this to a journalist."
Oleksiy Bobrovnikov, an investigative journalist and special correspondent for TSN programme on 1+1 TV channel, publicly wrote on his Facebook on 10 January that he left Ukraine after receiving numerous threats.
Since 2015 Bobrovnikov has been investigating the fatal shooting of officers and volunteers who oppose smuggling along what is known as the "grey zone," the dividing line between western Ukraine and the self-proclaimed Donetsk and Luhansk People's Republics.
Bobrovnikov confirmed to Mapping Media Freedom that he left the country in mid-December because he feared his life was in danger. He said he had received five warnings connected with his investigation telling him his life was in danger.
"The threats ranged from a pat on the shoulder to threats coming from people with weapons in their hands. Other people investigating trade with occupied territories also received similar threats," Bobrovnikov wrote.

According to Ukrayinska Pravda, two individuals working to fight against the smuggling were killed on 2 September 2015, near Schastye, a town in the Luhansk region.
St Helens Council passed a motion on 18 January calling on retailers in the borough to stop selling daily newspaper The Sun, The St Helens Star reported.
The motion is not enforceable by law, but recommends retailers do not distribute the publication.
At the council meeting on Wednesday evening, Parr councillor Terry Shields asked the authority to support the Total Eclipse of The Sun campaign, which the paper's controversial coverage of the Hillsborough disaster as a reason to boycott.
The campaign describes itself as a peaceful campaign group with more than 50,000 members.

Councillors approved the motion at the town hall. The three Conservative councillors abstained from the vote.
A spokeswoman says: "We have enjoyed great success now having over 240 establishments not selling the paper. This includes small newsagents, major supermarkets and petrol stations. Cafes, pubs, hotels and local hospitals, have also joined in, showing their support to the campaign."[/vc_column_text][vc_column_text]
---

Click on the bubbles to view reports or double-click to zoom in on specific regions. The full site can be accessed at https://mappingmediafreedom.org/
---
[/vc_column_text][/vc_column][/vc_row][vc_row][vc_column][vc_basic_grid post_type="post" max_items="4″ element_width="6″ grid_id="vc_gid:1485518684846-d4098701-7bc7-6″ taxonomies="6564″][/vc_column][/vc_row]