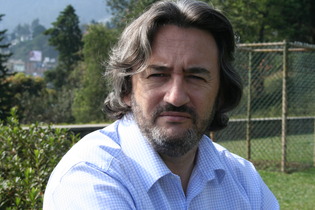 Fergal Keane is a journalist who made his name as a war reporter at the end of millennium, covering conflicts from Congo and Rwanda to Kosovo. In 2003, the Index on Censorship recognised his efforts with their award for Outstanding Commitment to Journalism Integrity. It wasn't Keane's first award, and it wasn't his last either. On top of his Orwell Prize (1996) and Amnesty International Press Award (1993) and Television Prize (1994), his OBE and his BAFTA (both from 1997), Keane has since added a Sony Gold award in 2009, for his inspiring Radio 4 series 'Taking a Stand', and the Ireland Funds Literary Award in 2015.
In 2004, following decades in the profession, Keane made the decision to stop entering active war zones. "I couldn't justify potentially robbing my children of a father," he told the Daily Telegraph in 2010. "I couldn't do it anymore." But despite a slight career shift, Keene continues his commitment to journalism and justice just as fervently. He is now a special correspondent for the BBC, still writing and broadcasting on topics like the refugee crisis, the Yemen conflict and the South Sudan civil war – though sometimes from afar – as well as often being dispatched to the latest scenes of terrorism in Europe, whether France, Belgium or Germany. Wherever he is, he retains an insight and awareness of historical context that few can match.
Beyond the BBC, he is also the author of several well-received books and in 2011 he received an honorary degree from the University of Liverpool, where he is now three years into a Professorial Fellowship. He is part of the university's Institute of Irish Studies, teaching students on the Understanding Conflict masters programme.
Speaking to the university's website in 2015, Fergal criticised the "endlessly reductive" mainstream press and urged his students to "always challenge your opinions with facts, every day of your life. You will only know what your opinions are worth if they are taken out of the box and subjected to the most severe tests. Facts, facts, facts."
Not all Keane's work is confined to journalism, however. In 2005, he founded Msaada, an NGO dedicated to assisting Rwandans – and Rwandan society – to recover from the 1994 genocide, through meaningful, income-generating projects. It continues to support such projects today.
Samuel Earle is a member of Index on Censorship's Youth Advisory Board. He is a freelance writer and recent masters graduate from the London School of Economics and Political Science, where he studied Political Theory. He lives in Paris.