[vc_row][vc_column][vc_column_text]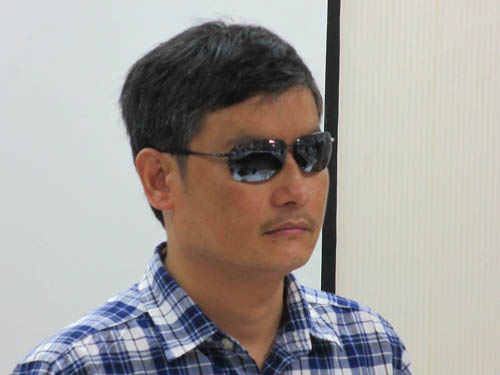 Chen Guangcheng, a Chinese civil right activist who won the Freedom of Expression Award in the Whistleblower of the Year in 2007, today lives in New York City. When Index on Censorship honoured him, Chen Guangcheng was serving a prison sentence for organising a landmark class-action lawsuit against authorities in Linyi, Shandong province, for the excessive enforcement of the one-child policy.
Released in 2010 from prison, he remained under house arrest at his home in Dongshigu Village. In April 2012, Chen escaped his house arrest and fled to the U.S. Embassy in Beijing. After negotiations with the Chinese government, he left the embassy for medical treatment in early May 2012. On 19 May 2012, he, his wife, and his two children were granted U.S. visas and departed Beijing for New York City. Due to the help of New York University professor Jerome A. Cohen, Chen was granted a placement at NYU. He started learning English and remained a public critic of the Chinese government, with editorials in the New York Times and other media outlets.
At the same time, Chen developed a close association with conservative Christian and pro-life figures in the United States. In October 2013, he accepted an offer from the conservative Witherspoon Institute in Princeton, New Jersey, and became a Distinguished Senior Fellow in Human Rights, as well as a Visiting Fellow of the Institute for Policy Research and Catholic Studies at the Catholic University of America. In his role as Witherspoon fellow, he has delivered public lectures, including one at Princeton University entitled "China and the World in the 21st Century: The Next Human Rights Revolution" in which he asked for the support of America to the Chinese opposition that fights against the government.
Chen Guangcheng's memoir, The Barefoot Lawyer, was published in March 2015.
Constantin Eckner is a member of Index on Censorship's Youth Advisory Board. Originally from Germany, he graduated from University of St Andrews with a MA in modern history, and is currently a PhD candidate specialising in human rights, asylum policy and the history of migration.[/vc_column_text][/vc_column][/vc_row][vc_row][vc_column width="1/2″][vc_single_image image="85476″ img_size="full" alignment="center" onclick="custom_link" link="https://www.indexoncensorship.org/2016/11/awards-2017/"][/vc_column][vc_column width="1/2″][vc_column_text]
Index on Censorship Freedom of Expression Awards
Seventeen years of celebrating the courage and creativity of some of the world's greatest journalists, artists, campaigners and digital activists
2001 | 2002 | 2003 | 2004 | 2005 | 2006 | 2007 | 2008 | 2009 | 2010 | 2011 | 2012 | 2013 | 2014 | 2015 | 2016 | 2017[/vc_column_text][/vc_column][/vc_row][vc_row][vc_column][vc_basic_grid post_type="post" max_items="12″ style="load-more" items_per_page="4″ element_width="6″ grid_id="vc_gid:1492506097197-e4a3fdd4-b163-7″ taxonomies="3023, 85″][/vc_column][/vc_row]