[vc_row][vc_column][vc_column_text]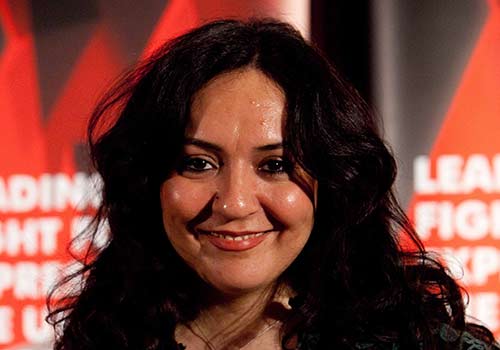 Since winning the Freemuse Award for Music in 2010, Mahsa Vahdat has continued to use her music to fight for freedom of expression for the women of Iran.  Since the Iranian revolution in 1979, female solo vocalists are permitted to perform only for female audiences; they cannot perform for men except when part of a chorus as conservative clerics say women's voices have the power to trigger immorality and arousal.
But Vahdat learned music as a child and went on to study it at university in Tehran.  She was encouraged to perform there despite the strict new rules of the Islamic Revolution.  Not only does she sing but she also plays the piano and the setar, a Persian string instrument that's a member of the lute family.  Now she has taken that freedom to the Iranian diaspora and world music circles across the globe, performing at international venues where her voice is not discriminated against on the basis of her gender.  She refers back to the classical Iranian poets – Rumi, Khayyam and Hafez – as well as using contemporary poetry.
Vahdat's commitment to fight for her right to sing often meets obstacles; in 2011 she gave a concert at the residence of the Italian embassy in Tehran despite the attempts of the government security forces to stop guests from entering the building.  But she has built a following around the world, especially in Norway after touring schools there and presenting a positive, musical image of Iran.  In 2011 she released the album Twinklings of Hope with her sister to critical acclaim and has gone on to collaborate with other performers such as Mighty Sam McClain.
Despite the conservatism of her homeland she still teaches Persian singing in Tehran, ensuring that the tradition of both folk music and that of the female artist stays alive. She continues to be an ambassador for the Freemuse Organization which advocates freedom of expression for musicians and composers across the world.
Sophia Smith-Galer is a member of Index on Censorship's Youth Advisory Board. She is an MA student studying Broadcast Journalism at City University in London.  She studied Spanish and Arabic previously at Durham University.[/vc_column_text][/vc_column][/vc_row][vc_row][vc_column width="1/2″][vc_single_image image="85476″ img_size="full" alignment="center" onclick="custom_link" link="https://www.indexoncensorship.org/2016/11/awards-2017/"][/vc_column][vc_column width="1/2″][vc_column_text]
Index on Censorship Freedom of Expression Awards
Seventeen years of celebrating the courage and creativity of some of the world's greatest journalists, artists, campaigners and digital activists
2001 | 2002 | 2003 | 2004 | 2005 | 2006 | 2007 | 2008 | 2009 | 2010 | 2011 | 2012 | 2013 | 2014 | 2015 | 2016 | 2017[/vc_column_text][/vc_column][/vc_row][vc_row][vc_column][vc_basic_grid post_type="post" max_items="12″ style="load-more" items_per_page="4″ element_width="6″ grid_id="vc_gid:1492506354793-87f74769-0713-9″ taxonomies="2562, 7359″][/vc_column][/vc_row]