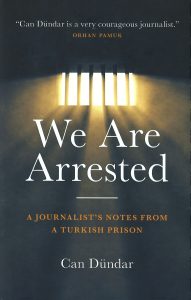 The Royal Shakespeare Company performed an abridged version of Turkish journalist Can Dündar's book We Are Arrested on stage at the Other Place in Stratford-upon-Avon on Friday 16 June. The plot follows Dündar's arrest and imprisonment after his decision as editor-in-chief of Cumhuriyet newspaper to publish evidence of Turkish intelligence services sending weapons to Syria.
Cumhuriyet received the Reporters without Borders (RSF) Press Freedom Prize in 2015 for its reporting despite being the target of  "frequent persecution by the Turkish regime".
The performance featured two actors, with the audience seated in a square formation surrounding the performers. The actors used two chairs as props. One actor played Dündar and narrated the plot, while the second actor played the other characters who interacted with him, including his son, his wife and fellow Cumhuriyet journalist and prisoner Erdem Gül.
In November 2015, Dündar and Gül were charged with espionage for exposing secret information. In the play, his character described the decision to publish the evidence that landed him in jail, which was printed under the headline: The weapons denied by Erdogan. Several times throughout the reading, Dündar's character reiterated the guiding principles that led him to print: Is the work genuine? Is it in the public interest? If it is more valuable to publish the work than to "put it in a drawer," then it is a journalist's civic duty to publish.
While waiting to hear the charges against him, Dündar drew on George Orwell for moral support, quoting: "During times of universal deceit, telling the truth becomes a revolutionary act."
In February 2016, the Turkish Supreme Court declared Dündar's imprisonment unlawful and ordered his release. He described his release as moving from "the closed prison of Silivri to the semi-open prison that is Turkey".
Since then, Dündar has lived in exile in Berlin. His wife, Dilek Dündar, is unable to leave Turkey, where she has lived "like a hostage" ever since her passport was confiscated. Most of the characters in the play are now in jail, including three of Dündar's lawyers and a dozen Cumhuriyet journalists have been arrested. Press freedom in Turkey has been on the decline, falling from 98th in the world in 2005 to 155th in 2017 according to RSF's World Press Freedom Index.
Dündar spoke to Index following the play about those journalists and defenders of freedom of expression still imprisoned in Turkey. "We have to defend their job and their freedoms and we have to be brave," he said. "Being talented is not enough – you have to be brave at the same time. We will prevail in the end."