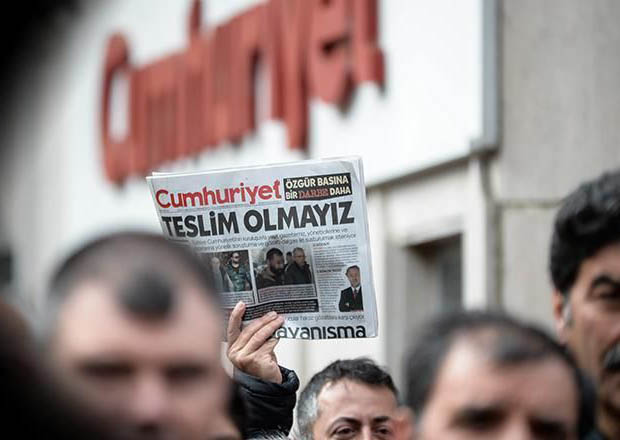 "Of course I am afraid. Only a fool wouldn't be afraid at such a time," said Ali Sirmen, a veteran journalist who has spent decades working at Cumhuriyet, whose writers and executives — five of whom remain imprisoned — are on trial facing terror charges.
This is not the first time journalists from Cumhuriyet have faced trial. The newspaper's long history — it was founded in 1924 and christened by none other than the republic's founder Mustafa Kemal Atatürk; "cumhuriyet" is the Turkish word for republic —  is one of "prisons and clampdowns" according to Cumhuriyet's own wording. The newspaper has been shut down many times, many of its employees imprisoned and six of them were murdered over the course of its 93-year long history.
The 78-year-old Sirmen first started at Cumhuriyet in 1974 and wrote for the newspaper until 1991, when he walked with 80 other journalists in protest of the editorial line adopted by then editor-in-chief Hasan Cemal. After a seven year stint at the then-mainstream Milliyet, Sirmen returned to Cumhuriyet in 1998.
Sirmen was imprisoned both after the 12 March 1971 and 12 September 1980 military coups for his writing. He has seen both civilian and military prisons. He was eventually acquitted both times, but only after serving time in prison.
"If I had stayed 20 more days in prison in the 12 September period, I would have completed the sentence they were seeking for me," he remembers. "The practice of pretrial detention as punishment for journalists started in those times," Sirmen said.
Keeping up appearances
According to Sirmen, trial proceedings of military eras were mostly a show, but they were still less farcical than the courtrooms of post-15 July Turkey. "They [the courts of military rule periods] at least tried to keep up appearances. They abided by established procedures; here, there is no such concern at all."
"As someone who knows the prisons of the coup periods, I have said many times that the situation is much worse today. For example, when I was acquitted in the Madanoğlu trial [in which Sirmen was accused of supporting a failed coup in 1971] the Military Court of Cassation overruled our convictions twice in spite of pressure from the military regime. Can such a thing happen today?" he asked.
Hasan Cemal, the editor-in-chief whom Sirmen walked out on in 1991, agrees. "Cumhuriyet was shut down during both coup periods; saw immense levels of crackdowns, its writers were imprisoned many times, but not to the extent that we see today."
Like Sirmen, Cemal agrees that the judiciary tried to act in compliance with the law despite pressure. "There was no rule of law in the 12 September period; true, but to a certain extent, there was a state that heeded laws. We don't have that anymore."
A secular, forward-looking newspaper
But Cemal doesn't believe in comparisons. "It might be misleading comparing one grievance with another. If journalism is considered a crime in our day, if freedom of expression is being trampled under feet, if the media today has only one voice, what good would it do to compare this horrible situation with the 12 March or 12 September period?"
Although the two journalists might have locked horns in the past, both name "belief in democracy, secularism and the rule of law" as the definitive values which Cumhuriyet stands for. Both of them also agree that it is precisely why the newspaper, which is doing poorly both financially and in terms of circulation, has come under attack. Why would anyone bother to silence an apparently moribund newspaper?
"The way Cumhuriyet views secularism, democracy, the supremacy of law, freedoms and human rights; its face is turned towards the west; all of these are unacceptable for the Erdoğan mentality. Because if Cumhuriyet is the west, then Erdoğan is the east," according to Cemal.