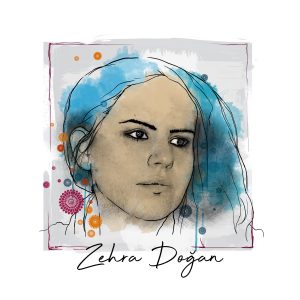 Released from prison on 24 February 2019, Zehra Doğan is a Kurdish painter and journalist who, during her imprisonment, was denied access to materials for her work. She painted with dyes made from crushed fruit and herbs, even blood, and used newspapers and milk cartons as canvases.
Doğan used to work in Nusaybin, a Kurdish town caught in the crossfire between Turkey and Kurdish militants. She moved to the town to report on the conflict in 2016 and edited Jinha, a feminist women-only Kurdish news agency reporting in the Kurdish language.
When she realised her reports were being ignored by mainstream media, Dogan began painting the destruction in Nusaybin and sharing it on social media, and her art became important evidence of the violence in the town.
Doğan focused on striking, dark political scenes, but also on colourful scenes of traditional Kurdish life. In her most famous artwork, she adapted a Turkish army photograph of the destruction of Nusaybin, depicting armoured vehicles devouring civilians. In July 2016, she was arrested where witnesses testified in court that she was a member of an illegal organisation.
Although her trial ended with no sentencing, Doğan remained in prison until December 2016. In March 2017, Doğan was acquitted of "illegal organisation membership" but sentenced to almost three years for "propaganda" – essentially posting her painting on social media.
Her persecution is not isolated and takes place amid a crackdown on Turkish civil society. Using emergency powers and vague anti-terrorism laws, the authorities have suspended or dismissed more than 110,000 people from public sector positions and arrested more than 60,000 people between the attempted coup of July 2016 and the end of the same year.
Together with media and academic freedom, artistic freedom has come under attack. As a result, according to the Economist: "Artists have become more cautious, as have galleries and collectors." Doğan's situation was noticed by many artists in the world: Banksy painted a huge mural for her in New York and Ai Wei Wei sent a letter to her.
During her time in prison Doğan continued to produce journalism and art. She collected and wrote stories about female political prisoners, reported human rights abuses, and painted despite the prison administration's refusal to supply her with art materials.
Doğan produced her own paint from food, drinks, and even her menstrual blood. She did not have brushes but used feathers of birds that fell into the prison yard. Security guards seized and destroyed the paintings she tried to send out of prison and punished her with a ban on communications with the outside world. She also gave drawing classes to other inmates and taught them how to make their own paintbrushes.