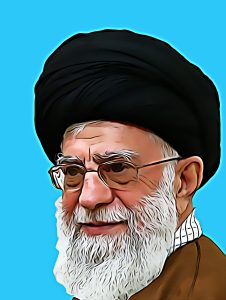 If you were in the Iranian capital Tehran on Friday 23 September, you would be forgiven for thinking that Ali Khamenei was a popular and misunderstood leader. That day, thousands of Iranians marched through the city waving Iranian flags and holding high photos of Khamenei and his predecessor Ayatollah Ruhollah Khomeini.
"This is a classic from the authoritarian playbook," says Index's associate editor Mark Frary. "How often do you see such pro-government rallies in truly free countries? You have to wonder what pressure they bring to bear on the people present to agree to take part in events which are clearly designed to drown out true protests."
The September rallies were a largely unsuccessful attempt, at least outside Iran, to distract attention from widespread protests in the country following the death in custody of 22-year-old Mahsa Amini, detained by Iran's notorious Gasht-e Ershad. 
"These so-called 'morality police'  uphold respect for Islamic morals, including detaining women who they see as being improperly dressed, such as wearing revealing or tight-fitting clothing or not wearing the required hijab," says Frary.
Since then the country has been wracked by protests, which have been violently subdued. Oslo-based NGO Iran Human Rights say that a minimum of 448 people, including 60 children, have been killed in the protests. Many of those paying the ultimate price for protest have been women.
The Iranian authorities have been trying to keep a lid on the news by shutting down the internet in the country. Iran's parliament has also been working on a draft bill that seeks to impose further restrictions on internet access for people in Iran, including criminalising the use of virtual private networks.