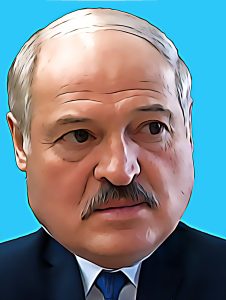 "You can usually tell the quality of a tyrant's credentials by the number of people he has thrown in jail on spurious grounds and Europe's last dictator, Alyanksandr Lukashenka, is no exception," says Index associate editor Mark Frary. 
Lukashenka started his fifth term as president in August 2020, following an election that most credible observers believe was neither fair nor free.  
According to the human rights organisation Viasna, the list of political prisoners has now grown to 1,442 people. "This includes our former Index colleague Andrei Aliaksandrau and his wife Irina Zlobina, who were sentenced to 14 years and nine years respectively in early October for 'establishing an extremist formation'," says Frary.
It seems that even the slightest hint of opposition to Lukashenka can see you head off to the country's infamous prisons. In November, 69-year-old teacher Ema Stsepulyonak was given a two-year sentence for supposedly insulting the Belarusian leader following a police shoot-out at a Minsk apartment that left two people dead.
Lukashenka is clearly worried by such "extremists". His government has started a growing list of people who are considered as such and anyone appearing on it are not allowed to hold public office, teach, publish writing or participate in military service. On one day at the end of October, Lukashenka's regime added a frankly ridiculous 625 extremists to the list. "Belarus must be so dangerous with this many extremists, right?" asks Inna Kavalionak of Politzek.me in the winter 2022 edition of Index on Censorship magazine.
"Lukashenka's fate is closely tied with that of his friend and neighbour Vladimir Putin," says Frary. "In the illegal war in Ukraine, Lukashenka has allowed Belarus to be used as a launchpad for Russia's soldiers into the country's northern flank. He has also promised that 'Europe will tremble' if Belarus is attacked."
By aligning himself with Putin, Lukashenka is firmly planting himself on the wrong side of history.