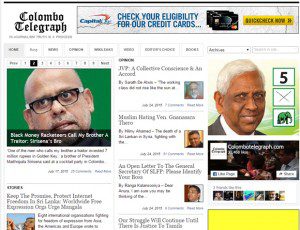 The Colombo Telegraph, Sri Lanka's most iconoclastic investigative news website, is gearing up for this year's second national election. And once again they face the threat of censorship — despite a presidential promise to bring it to an end.
January's polls saw the website blocked to domestic voters by order of authoritarian incumbent president Mahinda Rajapaksa. Unseated by shock winner Maithripala Sirisena, one of the victor's first acts after the vote was to lift the official banning order.
Unfortunately his officials didn't get the memo and simply resorted to more subtle and illegal censorship. Their covert interference was exposed by the Colombo Telegraph just a month later, drawing a personal apology from the minister responsible, Mangala Samaraweera, and a promise of a full investigation.
That promised investigation has so far come to nothing, while the later announcement of a general election for August 18 has raised political tensions. This week eight international freedom of expression groups, including Index on Censorship, wrote to Samaraweera reminding him of his promise.
"The media must be free to cover the upcoming campaigns without fear of interference, covert or overt, online or off," said the groups. Censorship, legal or illegal, may fall hard on independent voices like the Colombo Telegraph unless the state's secret censors are found and stopped.
Colombo Telegraph editor Uvindu Kurukulasuriya is calling on the government to complete the inquiry as soon as possible and guarantee that the media will be free to report the campaign.
But the Colombo Telegraph has few friends among the current government, led by United National Party prime minister Ranil Wickremesinghe.
The government has been embarrassed by the site's publication of parts of a leaked 19-page draft parliamentary committee report into an alleged government bond scam linked to Central Bank Governor Arjuna Mahendran and his son-in-law. The dissolution of parliament would have buried its detailed allegations had it not been leaked.
Wickremesinghe said the draft report was 'false and perverted' and has no official status. This did not stop him threatening media that cite it with prosecution under an act prohibiting sharing details of committee proceedings before they are presented to parliament itself. The use of the act – much criticised by independent media who have called for its repeal – is designed to deter other journalists following up the story during the election campaign.
Media rights are suddenly looking shaky across the country. Despite pledging to introduce a Right to Information Act as a key part of the Sirisena-Wickremesinghe government's first 100 days in power, they failed to deliver. And the ruling party set the tone for the election campaign by reportedly pressing state media to downplay coverage of the start of Rajapakse's bid to return to power as prime minister.
Meanwhile the threat of more illegal online censorship remains as long as the original crime remains un-investigated. It took a careful study by the site's technical advisers in Denmark to discover that what appeared to be poor connections to some of the site's more controversial news pages, was in fact targeted interference.
The source of the interference was traced to a server in the central office of Sri Lanka Telecom at the OTS Building in Lotus Road in Colombo.
Websites can be "prohibited or be subject to supervision and control" under section 69 of the Sri Lanka Telecommunications Act 1991 – but only under ministerial authority, and under a publicly announced order. No such order was made to replace the one lifted by Sirisena.
Kurukulasuriya's online news site, run by volunteers for four years, has developed a strong record of controversial scoops backed with an impressive array of documentation.
"We've never supported any particular political party, organisation or individual over another, and have proven it over the years. We just want our site to continue as an independent media organisation without unnecessary legal interference or illegal censorship."