[vc_row][vc_column][vc_video link="https://youtu.be/IOoITI_aB1U"][vc_column_text]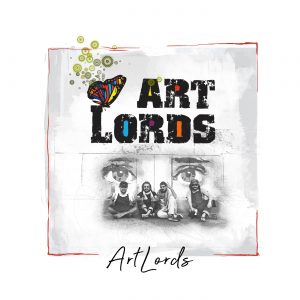 ArtLords is a grassroots movement of artists and volunteers in Afghanistan who encourage ordinary citizens, especially women and children, to paint the issues that concern them on so-called blast walls: walls the country's rich and the powerful have built around themselves to protect them from violence while the poor fend for themselves.
Three decades of war have changed Afghanistan's social fabric dramatically. Violence and pressure from groups ranging from terrorists to government forces to drug lords has stoked fear in the population, fuelling self-censorship. Journalists, activists and artists have been threatened and killed. The ArtLords themselves have been threatened and accused of being spies.
According to Reuters, "some city streets have been turned into concrete canyons". The ArtLords, whose name is in opposition to the warlords and drug lords at the root of many of Afghanistan's problems, have turned these walls into canvases. Recurrent themes  painted by citizens include anti-corruption, women's rights and polio eradication.
In their most famous artwork, called I See You, the group painted eyes on the walls of the National Directorate of Security as a warning to corrupt officials. The painting mysteriously disappeared a few days after being completed, sparking public outcry.
Another mural takes a dig at the rich and powerful, depicting a black SUV with its windows tinted, and reads "What are you carrying, that your windows are black? You don't have a license plate and don't stop for searches." Other paintings celebrated women who died serving Afghanistan and victims of random violence.
Their work has turned a symbol of fear, tension and separation into a platform where social issues can be expressed visually and discussed in the street.
The team has been threatened many times – they've been accused of becoming infidels, being CIA spies, standing against Sharia Law. ArtLords have also been indirectly targeted by the government because of their attempts to call out corrupt officials – and the government has whitewashed at least one of their murals.  
ArtLords has completed over 400 murals in 16 provinces of Afghanistan, partnering with NATO, UNICEF, embassies and being covered widely in Western media. In March 2018, for International Women's Day, ArtLords painted a tribute to Professor Hamida Barmaki, a woman human rights defender killed in a terrorist attack six years ago.
ArtLords is also collaborating on murals with the support Canadian Embassy in Kabul, UNICEF and the National Endowment for Democracy on themes such as tolerance, empathy and respect.[/vc_column_text][/vc_column][/vc_row][vc_row][vc_column][vc_separator][vc_row_inner][vc_column_inner width="1/2″][vc_single_image image="104691″ img_size="full" onclick="custom_link" link="https://www.indexoncensorship.org/2019/01/awards-2019/"][/vc_column_inner][vc_column_inner width="1/2″][vc_column_text]
Index on Censorship's Freedom of Expression Awards exist to celebrate individuals or groups who have had a significant impact fighting censorship anywhere in the world.[/vc_column_text][/vc_column_inner][/vc_row_inner][vc_separator][/vc_column][/vc_row][vc_row][vc_column][vc_basic_grid post_type="post" max_items="4″ element_width="6″ grid_id="vc_gid:1551800428751-ed837da4-cccd-5″ taxonomies="26925″][/vc_column][/vc_row]