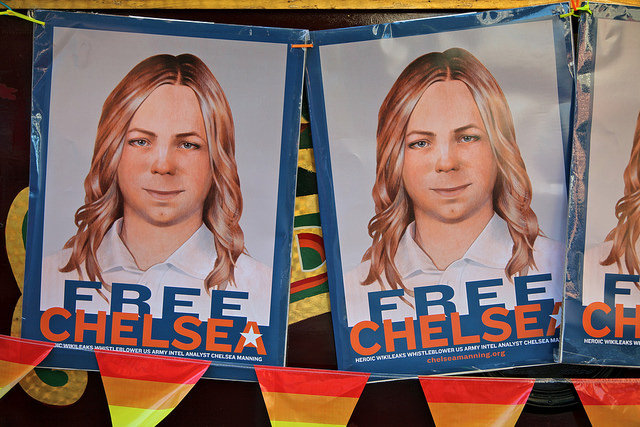 Although the USA is considered to have relatively generous freedoms of speech and the press protected under the First Amendment to the US Constitution, these freedoms have their limits. Many whistleblowers are not afforded protection in the USA and are subjected to lengthy prison terms after disclosing classified information to the public.
Chelsea Manning's suicide attempt on 5 July, six years into her 35-year sentence, highlights the severity the USA practices when sentencing whistleblowers. Manning was responsible for the leaks of classified US military information to Wikileaks including videos, incident reports from the Afghanistan and Iraq wars, information on detainees at Guantanamo and thousands of Department of State cables. She was sentenced on 21 August 2013 to 35 years at the maximum-security US Disciplinary Barracks at Fort Leavenworth.
Manning's case appears to be the rule, not the exception, in the USA.
Jeffrey Sterling
Considered to be a whistleblower by some, Jeffrey Sterling, who worked for the CIA from 1993 to 2002, was charged under the Espionage Act with mishandling national defense information in 2010. Sterling was sentenced to three and a half years in prison for his contributions to New York Times journalist James Risen's book, State of War: The Secret History of the CIA and the Bush Administration, which detailed the failed CIA Operation Merlin that may have inadvertently aided the Iranian nuclear weapons program. Risen was subpoenaed twice to testify in the case United States v Sterling but refused, resulting in a seven-year legal battle.
On 11 May 2015, at Sterling's sentencing, judge Leonie Brinkema stated that although she was moved by his professional history, she wanted to send a message to other whistleblowers of the "price to be paid" when revealing government secrets.
Stephen Jin-Woo Kim
Stephen Kim is a former US Department of State contractor who, on 11 June 2009, spoke to Fox News reporter James Rosen about North Korean plans for a nuclear bomb test. Kim allegedly sought Rosen out after becoming frustrated that there was little being done in the Department of State in response to the threats of nuclear tests in North Korea, tests that were ultimately carried out. Fox News published Rosen's article, North Korea Intends to Match U.N. Resolution With New Nuclear Test, which resulted in an FBI investigation. Kim subsequently pleaded guilty to a single felony count of unauthorised disclosure of national defense information and was sentenced to 13 months in prison on 7 February 2014.
John Kiriakou
John Kiriakou, a former CIA officer, was charged with disclosing information to journalists on several occasions, including revealing the use of torture on Abu Zubaydah and connecting a covert operative to a specific undercover operation. Kiriakou accepted a plea bargain that spared the journalists he had spoken with from having to testify by pleading guilty to one count of violating the Intelligence Identities Protection Act.
On 28 February 2013, Kiriakou began serving his 30-month sentence. He has stated that his case was more about punishment for exposing torture than leaking information and that he would "do it all over again".
Edward Snowden
Although the most famous whistleblower on this list has not been tried and sentenced, Edward Snowden could face up to 30 years in prison for his multiple felony charges under the World War I-era Espionage Act. Snowden was charged on 14 June 2013 for his role in leaking classified information from the National Security Agency, notably a global surveillance initiative.
Snowden has expressed a willingness to go to prison for his actions but refuses to be used as a "deterrent to people trying to do the right thing in difficult situations" as so many whistleblowers often are.
Barrett Brown
The political climate in the US has become so hostile towards leaks that even journalists can face repercussions for their involvement with whistleblowers. American journalist and essayist Barrett Brown's case became well-known after he was arrested for copying and pasting a hyperlink to millions of leaked emails from Stratfor, an American private intelligence company, from one chat room to another. The leak itself had been orchestrated by Jeremy Hammond, who is serving 10 years in prison for his participation, and did not involve Brown. Brown faced a sentence of up to 102 years in prison, once again for sharing a hyperlink, before the 12 counts of aggravated identity theft and trafficking in stolen data charges were dropped in 2013.
Although the dismissal of these charges was heralded as a victory for press freedom, Brown was still convicted of two counts of being an accessory after the fact and obstructing the execution of a search warrant. On 22 January 2015, Brown was sentenced to 63 months in prison and ordered to pay $890,250 in fines and restitution to Stratfor.