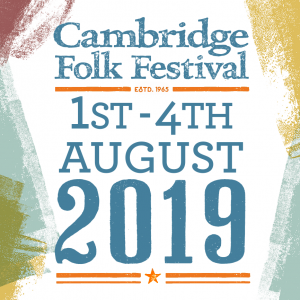 Index on Censorship, the campaigning free-speech nonprofit, has been announced as the official talks partner of Cambridge Folk Festival and will host a series of events as part of a brand new Spoken Folk strand at the Festival, which takes place from 1-4 August at Cherry Hinton Hall, Cambridge.
Events include spoken word performances from poet and folk musician Jade Cuttle and hip-hop poetry company Lyrix Organix's Dan Tsu, a talk on women and folk music featuring Stevie Freeman, CEO of Americana UK, and professional "Strong Lady" Charmain Childs, plus a series of taboo-busting Fireside Folk Tales for Grown Ups.
Index on Censorship CEO Jodie Ginsberg says:
"Folk music has long been the vehicle through which truth could be told to power. Folk songs are songs of protest. They are songs that tell stories about the lives lived by ordinary people – and are of the people. As a huge folk fan myself, I'm really excited Index is partnering with one of the country's leading folk festivals to celebrate freedom of expression and the role folk music plays in championing it."
Cambridge Folk Festival Manager Rebecca Stewart says:
"Cambridge partnering with Index on Censorship makes a lot of sense. Folk music has been described as the music of the people and often has very strong political ties. Songs that talk about some of the most censored times in British history are commonplace in many performers' sets and they often take inspiration from some of the worst of times, to make something beautiful and powerful. For the Festival to be able to work with an organisation that supports those voices around the world is really important, especially in this day and age."
Cambridge Folk Festival takes place at Cherry Hinton Hall from 1-4 August 2019. Stage 1 headliners are Calexico and Iron & Wine (Friday), Lucinda Williams (Saturday) and From Bamako to Birmingham featuring Amadou and Mariam and Blind Boys of Alabama (Sunday). Stage 2 headliners are Ralph McTell (Thursday), Robert Finley (Friday), Tunng (Saturday).
See the full line-up here: https://www.cambridgelive.org.uk/folk-festival
– ENDS –
Listings Info:
All talks and performances take place in the Flower Garden.
Women's Panel  (Friday 2 August, 5:30 – 6:30 PM)
What The Folk? Free Expression and the Future of Folk (Saturday 3rd August, 3:00-4:00 PM)
Fireside Folktales for Grownups (Friday 2nd, Saturday 3rd & Sunday 4th August, 9:00 PM)
For more information:
INDEX ON CENSORSHIP
Sean Gallagher [email protected]
CAMBRIDGE FOLK FESTIVAL
Ben Casement-Stoll [email protected]
Christina McNally [email protected]
Notes for Editors:
Index on Censorship is a non-profit organisation that defends free expression and fights censorship of artists, writers, journalists and campaigners worldwide through advocacy, events and an award-winning quarterly magazine. Index believes that everyone has the right to free expression – no matter what their views. Index on Censorship has published some of the greatest names in literature including Samuel Beckett, Nadine Gordimer, Mario Vargas Llosa, Arthur Miller and Kurt Vonnegut. Patrons include Margaret Atwood, Simon Callow and Steeve Coogan.
Website: www.indexoncensorship.org
Twitter: @IndexCensorship
Cambridge Folk Festival is one of the longest running and most prestigious folk festivals in the world. Established by Cambridge City Council and held each year since 1965, the Festival is renowned for its unique atmosphere and eclectic mix of music. It attracts legendary traditional folk artists along with cutting edge contemporary acts, the finest American country, blues and roots artists and acclaimed singer songwriters.
Website: https://www.cambridgelive.org.uk/folk-festival
Twitter: @CamFolkFest