[vc_row][vc_column][vc_video link="https://youtu.be/HmK19Kwc6lY"][vc_column_text]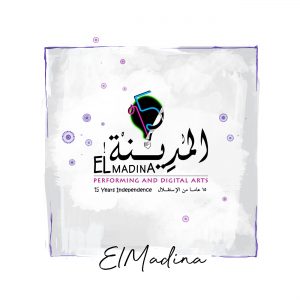 ElMadina for Performing and Digital Arts is a group of artists and arts managers who combine art and protest by encouraging Egyptians to get involved in performances in public spaces, defying the country's restrictive laws.
ElMadina's work encourages participation — blending performances, story-telling, dance and training on human rights and citizenship — to transform public spaces and marginalised areas in Alexandria and beyond into thriving environments where people can freely express themselves.
Their work blends various artistic practices — street theatre, artistic training and grassroots advocacy —  to encourage free expression in a country in which public space is shrinking under the weight of government distrust of the artistic sector.
Under the current president Abdel Fattah el-Sisi, civil society has come under attack. A 2013 Protest Law restricts demonstrations and art in public spaces. Over 500 websites are currently blocked. The arts sector is tightly regulated and the use of foreign funds is restricted. A 2018 law prohibits any festivals that have not been authorised by a government committee.
Some of their work takes the form of 'advocacy street theatre': Street Carnival, a 2015-16 series of performances, showcased Egypt's marginalised cultures; Training in the Street use the public realm to stage theatre training workshops for artists and the public.
Another project, Street Theater in Egypt, challenged Egypt's Protest Law, which regulates arts in public spaces, and produced two legal studies that were referenced in the case filed against the constitutionality of the law.
As a result of their activity, ElMadina have come under growing government pressure, and had to close their office a few months ago. They cite "a lot of pressure in many different ways"; including trouble with their landlord (a governmental institution); obstacles in receiving funds; unofficial interrogations; denial of event approvals; and being put on the list of people tracked to be investigated prior to travelling.
In November 2018, ElMadina launched The Picnic, a research project and interactive artistic installation that seeks to involve the audience in monitoring the transformation of public spaces in Egypt.
Raya, Sakina & Cavafy uses the stories of two serial killers and a poet to make the audience reflect on Egypt's cultural policies. It took the form of an exhibition and a performance that will premiere in 2019. ElMadina also do advocacy and research work for the MARSAD (Mediterranean Action and Research for Sustainability And Development) Observatory and MedCulture. They also provide a physical space for training programmes, residencies and performances.[/vc_column_text][/vc_column][/vc_row][vc_row][vc_column][vc_separator][vc_row_inner][vc_column_inner width="1/2″][vc_single_image image="104691″ img_size="full" onclick="custom_link" link="https://www.indexoncensorship.org/2019/01/awards-2019/"][/vc_column_inner][vc_column_inner width="1/2″][vc_column_text]
Index on Censorship's Freedom of Expression Awards exist to celebrate individuals or groups who have had a significant impact fighting censorship anywhere in the world.[/vc_column_text][/vc_column_inner][/vc_row_inner][vc_separator][/vc_column][/vc_row][vc_row][vc_column][vc_basic_grid post_type="post" max_items="4″ element_width="6″ grid_id="vc_gid:1551786321771-589402b3-618c-6″ taxonomies="26925″][/vc_column][/vc_row]