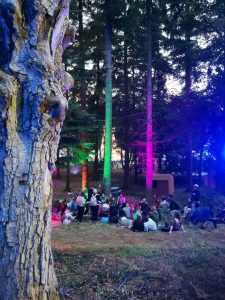 Its towering pine trees illuminated in green and purple, fairy lights twinkling in the treetops, the Faraway Forest teemed with groups of storytellers who had congregated to share grisly tales of love and adventure. Though it may have seemed so to attendees, Index on Censorship's Forest Folktales: Uncensored did not take place in a mystical fairyland, but rather at this year's Latitude Festival, an annual event that brings together visual artists, musicians, dancers, poets, comedians, and chefs in the picturesque woods of Henham Park, in Suffolk.
Since 2006, Latitude festival has hosted some of the world's most famous musicians and artists, along with obscure and up-and-coming creatives. Its stages have boasted names ranging from the Killers to alt-J to Mumford and Sons. This year, Latitude was held from 18 to 21 July. It comprised nine music venues of different sizes; nine different performance arenas for a variety of theatrical, comedic, and artistic performances (including the Faraway Forest); and a multitude of diverse food and drink options. 
Forest Folktales: Uncensored, Index's contribution to the festival, was staged over three days. Folktales, folk music, and other oral history traditions are essential for passing cultural heritage onto future generations. Yet over the years, many folktales have been censored or revised to be age appropriate for younger audiences. The original folktales — which are often gory and sexual — erode over time. In staging performances of uncensored folk tales in all their subversive glory, Index hopes to resist centuries of editorial censorship and honour the cultures that live on in the performance of folktales and folk songs. 
On Friday, 19 July, Index hosted Jade Cuttle, Scarlett Curtis, and Jemima Foxtrot. Cuttle is a poet, writer, and singer songwriter, and is currently deputy editor of poetry at Ambit magazine. She read aloud two folktales: The Dauntless girl, an English folktale about a fearless young girl's inadvertent murder of a gravedigger, and Tailypo, a North American folktale about an old man's demise at the hands of a demonic creature whose tail he has eaten. 
Curtis is a writer and blogger, most known for editing the award-winning collection of essays, Feminists Don't Wear Pink and other lies. She read exerpts of two stories from The Bloody Chamber by the English feminist author Angela Carter, the Snow Child and Bluebeard, which deal with gender violence and sexuality in a classic folktale style. The Snow Child tells of a girl who is magically conjured in the image of a Count's ideal woman, who is then tricked by the Count's wife into pricking her finger on a rosebush. Bluebeard tells of  young wife who, upon being forbidden by her absent husband from exploring one room in his castle, finds that the room contains torture instruments and the embalmed corpse of his previous wife.
Foxtrot, a writer and performance artist, is also director of the theater group Unruly Mess. She closed out the evening with a folktale and folk song: the Irish song Weila Weila, popularised by the Dubliners, which tells the story of a mother who is hanged for murdering her baby with a penknife; and the Welsh story the Erl-King, which tells of a father whose young son is killed by a supernatural being only his son can see.
The second night of Forest Folktales: Uncensored, Saturday, 20 July, saw the return of Foxtrot, again performing Weila Weila, as well as Angela Carter's story The Werewolf, about a child who, upon being attacked by a wolf, slices off the wolf's paw — only to discover that the paw has transformed into the hand of her beloved grandmother. She was joined by Max Porter, a novelist and the former editorial director of Granta and Portobello Books, and the poet Zaffar Kunial. Porter performed the Dauntless Girl and Tailypo, and Kunial performed Carter's the Snow Child. 
On the final evening, Sunday, 21 July, Index's own Helen Galliano and Anna Millward performed various uncensored folk tales, including a special Icelandic fairy tale translated by Millward, concluding the weekend.