Generation Wave has been at the forefront of promoting democratic engagement in Burma, using hip hop, graffiti, film and street art to challenge authoritarianism since 2007 – with a strict policy of non-violence.
The organisation grew out of what became known as the Saffron Revolution – the 2007 protests led by saffron robed monks, which were violently put down by the Burmese military. For four years, the group was outlawed and had to operate underground.
These days, as Burma's military has relaxed its grip on the country and started the transition to democracy, Generation Wave focuses on direct political activities and political capacity building among youth in the country, and the group has celebrated its last two anniversaries with public events.
---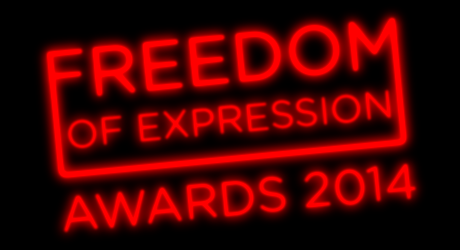 Nominees: Advocacy | Arts | Digital Activism | Journalism
Join us 20 March 2014 at the Barbican Centre for the Freedom of Expression Awards
---
However, the transition is still very much a work in progress. While there have been steps in the right direction, the political situation in Burma remains uncertain and activists like Generation Wave still face challenges. Over 20 members are former political prisoners. A number were released in 2012 as part of a mass presidential pardon, but several face ongoing charges, including co-founder and current president Moe Thway, who has appeared in court more than 130 times.
In 2013 Generation Wave sought official recognition as an institute in order to be able to carry out their activities in the clear light of day, but doing this is less straightforward than it might seem. "Our aim is to register as an organisation, because we don't want to be an illegal organisation – but during the [registration] process I was told to promise that I wouldn't work with politics. But that is impossible, because all of our work is concerned with politics," general director Min Yan Naing said.
This article was posted on February 27, 2014 at indexoncensorship.org