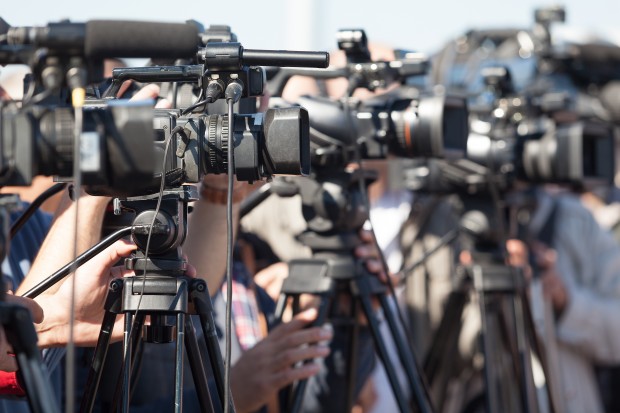 Each week, Index on Censorship's Mapping Media Freedom project verifies threats, violations and limitations faced by the media throughout the European Union and neighbouring countries. Here are five recent reports that give us cause for concern.
Sergey Leleka, a columnist for the pro-government newspaper Komsomolskaya Pravda, suggested in an article on 24 October that independent journalists Anton Nosik and Sergei Parkhomenko should be "cured in gas chambers".
According to Leleka, he wrote the article in reaction to jokes by Nosik and Parkhomenko about the Russian aircraft carrier Admiral Kuznetsov which passed through the English Channel emitting thick black smoke.
After the journalists complained to KP, the media outlet deleted the offending paragraph. However, Leleka's original post is still available on his Facebook page.
A number of Belgian media websites, including De Standaard, RTBF, Het Nieuwsblad, Gazet van Antwerpen and Het Belang van Limburg were subject to a co-ordinated DDoS attack on 24 October, which temporarily shut the sites down.
A group that calls itself the Syrian Cyber Army claimed responsibility.
"We have attacked the Belgian media outlets that support the terrible actions of their Air Force in Syria," the group said in a message to the newspapers. It wanted to "shame the Belgian authorities, which killed dozens of civilians in the village of Hassajik near Aleppo on 18 October".
Belgium's Federal Prosecutor's Office has launched an investigation.
Editor-in-chief of Gazeta Express, Leonard Kerquki, received death threats after the airing of his documentary which mentions war crimes committed by the Kosovo Liberation Army.
The documentary, Hunting the KLA, aired in two parts and covers crimes and prosecutions from the war between Serbia and Kosovo at the end of the 1990s. The threats were made after the showing of the second part on 23 October.
The Journalist Association of Kosovo condemned the threats, as did the OSCE mission in Kosovo. "I condemn the threats and calls for violence against Kërquki. Freedom of expression must be upheld and respected in all circumstances," said the head of Kosovo's OSCE mission, Jan Braathu. "I call on rule of law authorities to investigate these threats immediately and bring the perpetrators to justice," he said.
Ella Taranova, a senior producer for Russia Today, was detained by Latvian border guards on 21 October and later deported.
The incident occurred after Taranova was admitted to Latvia and to participate in a conference in a seaside suburb of Jurmala.
Taranova was blacklisted for being an employee of Russia Today, which the Latvian authorities see as a hostile propaganda organ of the Russian government. The head of Russia Today, Dmitry Kiselyov, is blacklisted from travelling to the European Union and other countries under EU sanctions imposed in the wake of Russia's annexation of Crimea.
After her detention, Taranova told journalists: "I did not engage in any political activities nor do I intend to." She added that she was unaware that she had been blacklisted since 2014 and had attended several such conferences prior to 2014.
At around 6am on 21 October, Russian Investigative Committee (SKR) officers entered and searched the apartment of Ksenia Babich, journalist and spokesperson for human rights international organisation Russian Justice Initiative.
According to Shelepin, SKR officers confiscated a notebook, phones and memory cards.
Babich was also asked to go to the SKR for questioning, Ilia Shelepin, a journalist and Babich's acquaintance, wrote on Facebook. Babich believes the search is related to the case of Artyom Skoropadski, a press secretary of the Ukrainian organisation Pravyi Sektorwhich, which is banned in Russia.