[vc_row][vc_column][vc_column_text]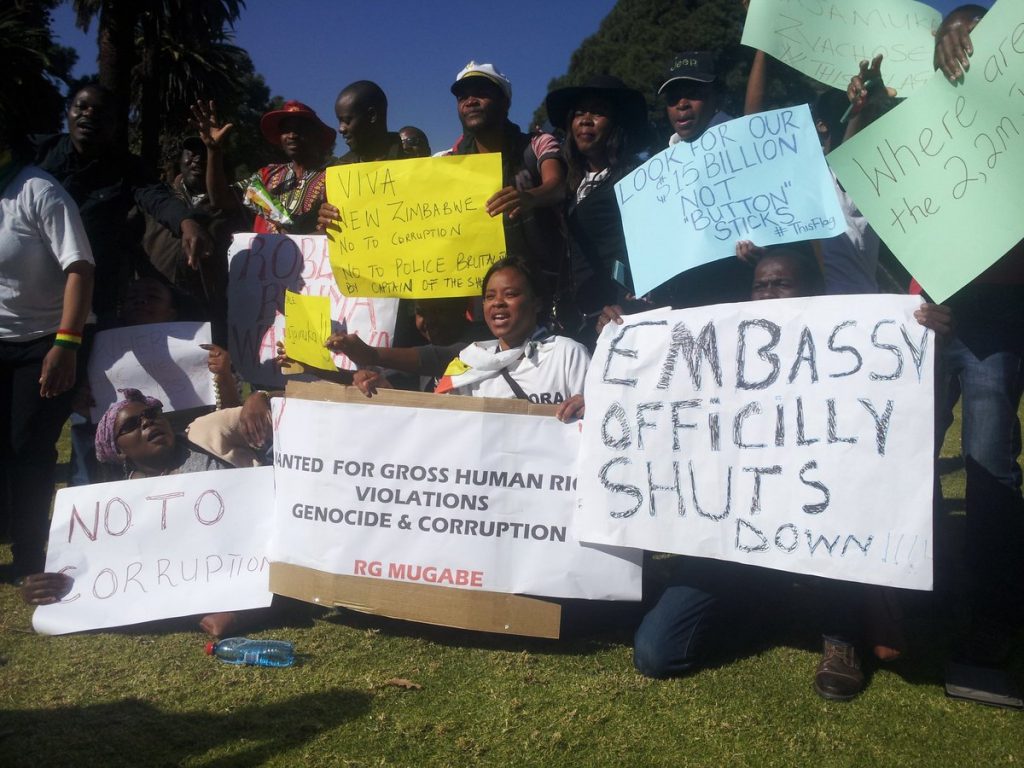 "I was arrested in Mufakose and severely assaulted by the police for inciting people to demonstrate," says Linda Masarira, a Zimbabwean human rights activist and director of the Zimbabwean Women in Politics Alliance, who was convicted under the country's anti-protest laws last year.
The 34-year-old mother of five has emerged as a leading figure in the fight against president Robert Mugabe's repressive government, a role which has made her a regular target of the authorities.
Recent protests in Zimbabwe represent a key turning point for a nation burdened by widespread unemployment, poverty and hyperinflation. Following his accession to the presidential post — the first leader since Zimbabwe gained its independence in 1980 — Mugabe has pushed through a number of controversial reforms, including the land redistribution programme implemented after the turn of the century. This had a dire effect on the country's economy. "Since 2000, life has deteriorated by the day in Zimbabwe," says Masarira. "By the time we reached 2007, everything was in a deplorable state and someone had to do something."
According to a report by the development organisation Hivos, instances of violence against women in Zimbabwe rose significantly from the year 2000, sparked by the country's "political authoritarianism" and "unprecedented economic decline". Such violence was often politically motivated, taking the form of assault and sexual violence, and making it increasingly difficult for the women's movement in operation at the time to function.
As well as her general opposition towards Zimbabwe's current political regime, Masarira maintains a particular focus on issues surrounding women's rights. In April 2016 the campaigner led a demonstration against Harare City Council following the murder of three girls whose bodies were found dumped in the suburbs of the city. She also organised a successful protest with ZWPA for the safe return of Zimbabwean women trafficked to Kuwait. After sending a petition to the Kuwaiti embassy, the women were returned to Zimbabwe within two months.
Despite the protests Masarira has been involved with thus far, the activist is well aware of the numerous difficulties women face when speaking out against injustice in Zimbabwe. "Any female politician or activist is labelled all sorts of names and discriminated [against] for wanting to behave like a man. The government hasn't made it any easier for women to freely participate in civil and political matters as the playing ground is uneven and tainted with violence."
The poor treatment of Zimbabwean women is a problem recognised by many. Magodonga Mahlangu, the leader of activist organisation Women of Zimbabwe Arise, has herself been arrested 70 times for speaking out against the authorities, although she has never been convicted.
"Zimbabwe is a patriarchal society and has a very repressive regime," she says. "I had to deal with a society that thought my struggle was not acceptable for a woman and the system beat, arrested and detained me as I am perceived to be a threat to society."
Mahlangu says that the difficulties faced by Zimbabwean women in challenging injustice were worsened by poverty, familial responsibilities and the widely held view that "a woman's place is in the kitchen". Mahlangu, who is frequently accused by Zimbabwean police officers of misleading the country's women, has refused to accept the status quo; namely that women should always be obedient and never question.
"The use of strategic nonviolence and understanding how to deal and overcome fear is the only way we can change the current situation," Mahlangu says.
In addition to her support of women's rights, Masarira has engaged in a number of other public protests. June 2016 saw the #16DayOccupation, during which activists demonstrated outside Africa Unity Square in the Zimbabwean capital of Harare. Masarira, alongside fellow activist Lynette Mudehewe, occupied Africa Unity Square with many others to mark their dissatisfaction over a number of issues including Zimbabwe's economic climate, rampant corruption, high unemployment levels, poor health care facilities and human rights violations.
Masarira says that following the demonstration, she and other protesters were ambushed by military police on 5 June 2016. Her finger was broken during the attack and activists had their phones taken. They were arrested on false charges of obstruction of justice on 10 June 2016 but later released on bail.
On 6 July 2016, Masarira was arrested for her involvement in a national shutdown, fronted by pastor Evan Mawarire's #ThisFlag movement and Tajamuka (meaning "we are fed up"), an anti-government pressure group in opposition to Mugabe's regime, of which Masarira is a founding member.
Despite the many protests that took place before Mawarire's video, it was the passionate appeal made to the Zimbabwean people by the pastor-turned-human rights campaigner that brought activism to the forefront, encouraging millions across Zimbabwe to challenge the corrupt activities of the government.
Mawarire, whose remarks about the government led him to flee to the USA over fears surrounding his family's safety, was arrested upon his return to Zimbabwe earlier this year. A recent statement by human rights organisation Amnesty International says that Zimbabwean authorities are looking to "make an example out of Pastor Evan Mawarire", sending "a clear message to anyone who dares dissent".
During the national shutdown, operations all over the Zimbabwean capital were brought to a halt in protest against social and economic grievances in the southern African nation. Masarira was severely assaulted by the police for her role in encouraging the demonstrations. She was charged with obstruction of the free flow of vehicles and pedestrians and remained in jail for 87 days, the authorities arguing that she was a state security threat. Masarira was physically and psychologically abused throughout her detention period. After leading protests among female inmates in opposition to poor prison conditions, the pro-democracy advocate was forced to stay in solitary confinement for 10 days. Her detention was later deemed illegal.
Following her release in September 2016, Masarira was convicted and sentenced to 18 months imprisonment, with a seven-month suspended sentence. The remainder of her sentence was converted to 385 hours of community service and Masarira has since appealed against her conviction and sentence.
In spite of the difficulties she has encountered in speaking out under the current political regime, Masarira vows to continue protesting against the violation of human rights and urges her fellow Zimbabweans to do the same.
"Freedom doesn't come on a silver platter," she says. "The future is brighter with an empowered citizenry who know their rights and can stand up against the government demanding transparency and accountability."[/vc_column_text][/vc_column][/vc_row][vc_row][vc_column][vc_basic_grid post_type="post" max_items="4″ element_width="6″ grid_id="vc_gid:1493369816086-07ad279a-23c0-0″ taxonomies="173, 9019″][/vc_column][/vc_row]