A public campaign has been launched to protect fragile manuscripts rescued from Timbuktu during the Mali crisis earlier this year. Sara Yasin reports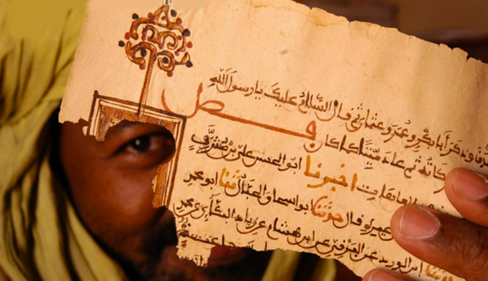 The campaign, called "Libraries in Exile", is raising money for protection and storage for the documents. They are now threatened by moisture damage, thanks to inadequate storage and a change in humidity. The campaign will use donations to reverse existing damage, and to purchase moisture traps and archival boxes. Many of the texts were transferred to Bamako, the country's southern capital.
The ancient religious texts, some dating back 700 years, were initially thought to have been destroyed by rebels belonging to radical Islamist group Ansar Dine. At least 4,200 documents were damaged by either looting or arson during the crisis, but approximately 300,000 documents were saved.
A UN mission was sent to Mali to assess the damage, from 28 May to 3 June 2013. A programme specialist in UNESCO's cultural section, David Stehl, told the Associated Press that "4,203 manuscripts were either burned by the Islamists or stolen."
Most of the manuscripts were housed at the Ahmed Baba Institute, a state-owned library that became Ansar Dine's headquarters when they captured Timbuktu in March 2012. While they initially did not know the value of the manuscripts, they eventually went looking for them. One of the institute's employees, Alkamiss Cisse told the Washington Post that once the jihadists "heard of the manuscripts' importance to the world, they would destroy them."
In June 2012, fighters from Ansar Dine began destroying Timbuktu's historic shrines and tombs for being "idolatrous."
Timbuktu is a UNESCO world heritage site. The organisation listed it as "endangered" following Ansar Dine's takeover of Mali's government in March. Shortly before the fighters began destroying the shrines, UNESCO warned that the Ansar Dine's presence might endanger the city's "outstanding architectural wonders".
Timbuktu Deputy Mayor Sandy Haidara told Reuters at the time that the attack was "a direct reaction to the UNESCO decision."
A team of librarians and archivists risked their lives to smuggle the documents out of Timbuktu. The manuscripts, hailing from centres of medieval learning in Timbuktu, Arabia, Egypt, Morocco, Andalusia and Southern Europe, and the Arab trading ports on the Indian Ocean. Timbuktu was once a lively trading hub, and was key to Islam's spread in West Africa.
Sara Yasin is an Editorial Assistant at Index. She tweets from @missyasin