[vc_row][vc_column][vc_video link="https://youtu.be/1VVGMgSHM6U"][vc_column_text]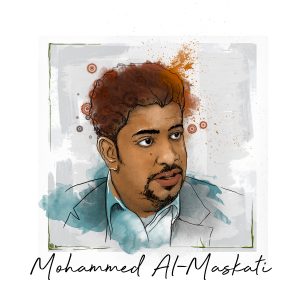 Mohammed al-Maskati is a Bahraini activist and digital security consultant who provides digital security training to activists in the Middle East and in North Africa.
Working as Frontline Defenders' Digital Protection Consultant for the MENA Region, Mohammed teaches activists – ranging from vulnerable minorities to renowned campaigners taking on whole governments – to get the truth out despite governments' attempt to shut them down. He educates them on the use of VPNs, and how to avoid falling into phishing or malware traps, create safe passwords and keep their accounts anonymous.
The MENA region is one of the most oppressive areas of the world for human rights defenders, but it is too often ignored by app and software developers, who do not provide products or instructions manual in Arabic.
Mohammed Al-Maskati opens the door to using digital security apps, and as a direct result of his training, a growing number of activists in the Middle East have reported being able to avoid government surveillance and reprisals.
Regional governments have also taken notice of Mohammed's activities. In May 2014, during a visit to Oman, he was kidnapped from a taxi and disappeared for three days, during which he was asked the names of the people he was helping. He has been banned from travelling to at least five countries, making it more difficult to reach activists in the region.
A good example is Mohammed's work in Iraq. Demonstrations erupted in September, and clashes broke out between protesters and Iraqi forces. The independent media websites reporting on the unrest were soon taken down by the government.
Mohammed travelled to Iraq and helped the activists to circumvent censorship, and the websites were able to keep going.
He had a similar impact in Egypt ahead of the March 2018 national elections, when the government was censoring not only websites but also several VPN services. Mohammed was able to arrange for a group of organisations to offer their VPN for free to Egyptian human rights defenders and journalists.
Mohammed has also been active to circumvent his travel ban. He has written Arabic-language training manuals on digital security, which he has released online, and set up a digital security email newsletter. He is also the founder of and part of the rapid response team, which is available 24 hours a day 7 days a week to help tackle digital attacks as they happen in real time.[/vc_column_text][vc_separator][vc_row_inner][vc_column_inner width="1/2″][vc_single_image image="104691″ img_size="full" onclick="custom_link" link="https://www.indexoncensorship.org/2019/01/awards-2019/"][/vc_column_inner][vc_column_inner width="1/2″][vc_column_text]
Index on Censorship's Freedom of Expression Awards exist to celebrate individuals or groups who have had a significant impact fighting censorship anywhere in the world.[/vc_column_text][/vc_column_inner][/vc_row_inner][vc_separator][/vc_column][/vc_row][vc_row][vc_column][vc_basic_grid post_type="post" max_items="4″ element_width="6″ grid_id="vc_gid:1552650108302-4a47418b-5e3e-10″ taxonomies="26925″][/vc_column][/vc_row]