[vc_row][vc_column][vc_video link="https://youtu.be/i_eRNjepHBg"][vc_column_text]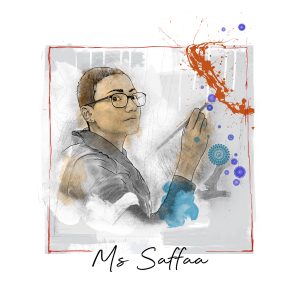 Ms Saffaa is a self-exiled Saudi street artist living in Australia who uses murals to highlight women's rights and human rights violations in Saudi Arabia.
Collaborating with artists from around the world, she often focuses on Saudi women, their individuality and autonomy. She challenges Saudi authorities' linear and limited narrative of women's position in Saudi society, and offers a counter narrative. Recently, she has also focussed on human rights and the murder of Jamal Khashoggi.
Part of a new generation of Saudi activists who take to social media to spread ideas, Ms Saffaa's work has acquired international reach. Through her use of social media and collaborations, Ms Saffaa amplifies her subjects' voices online, beyond their life on a wall.
"I am my own guardian", a series of murals she created in 2012-13, made waves in Saudi Arabia and internationally. This was a protest against restrictive guardianship laws that mandate women must have a male guardian's permission to get married, undertake education, have elective surgery or even to open a bank account. She depicted Saudi women wearing the male Saudi headdress, with banners across their mouths saying: "I Am My Own Guardian".
In 2016, a conservative Saudi man discovered her work and abused her on Twitter. This sent Ms Saffaa trending. Many activists retweeted her artwork, and used it in a movement protesting against Saudi Arabia's guardianship laws, which used the artwork as the unofficial logo.
Ms Saffaa has faced online threats, harassment, and in 2017, after an interrogation by the head of intelligence at the Saudi embassy in Canberra, her passport renewal request was denied, leaving her stranded in Australia with a de facto travel ban.
With crown prince Mohammed Bin-Salman's rise to power, expressing dissent or challenging the Saudi leadership has become even more dangerous. After the murder of prominent journalist Jamal Khashoggi, it is clear that dissidents face repression beyond a travel ban, and regardless of whether they live in the country or abroad.
In 2017, a mural celebrating Saudi women and the 150th day of the "I am my own guardian" movement was vandalised. In 2018, she recreated the defaced artwork with support from Peter Khalil, an Australian Labor MP. The new mural included the work of 10 local and international female artists as collaborators. On the week of International Women's Day, she created a mural in Sydney to celebrate Saudi women's resilience. It features two portraits of prominent Saudi activists imprisoned on terrorism charges. In November 2018, Ms Saffaa collaborated with renowned American artist and writer  Molly Crabapple on a mural celebrating Jamal Khashoggi that read, "We Saudis deserve better."[/vc_column_text][vc_separator][vc_row_inner][vc_column_inner width="1/2″][vc_single_image image="104691″ img_size="full" onclick="custom_link" link="https://www.indexoncensorship.org/2019/01/awards-2019/"][/vc_column_inner][vc_column_inner width="1/2″][vc_column_text]
Index on Censorship's Freedom of Expression Awards exist to celebrate individuals or groups who have had a significant impact fighting censorship anywhere in the world.[/vc_column_text][/vc_column_inner][/vc_row_inner][vc_separator][/vc_column][/vc_row][vc_row][vc_column][vc_basic_grid post_type="post" max_items="4″ element_width="6″ grid_id="vc_gid:1551786362908-3b759dfe-64e8-9″ taxonomies="26925″][/vc_column][/vc_row]