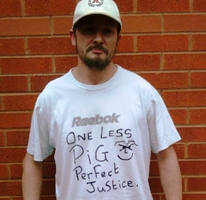 A man has been sentenced to a total of eight months in prison by a Manchester court for wearing a T-shirt daubed with offensive comments referring the murders of PC Fiona Bone and PC Nicola Hughes.
Barry Thew, of Radcliffe, Greater Manchester admitted to a Section 4A Public Order Offence today (11 October) for wearing the T-shirt, on which he had written the messages ""One less pig; perfect justice"" and "killacopforfun.com haha".
Inspector Bryn Williams, of the Radcliffe Neighbourhood Policing Team, said: "To mock or joke about the tragic events of that morning is morally reprehensible and Thew has rightly been convicted and sentenced for his actions."
Thew had been reported to police after wearing the article around three-and-a-half hours after the officers were shot dead in Greater Manchester on 2 October.
UPDATE: According to the Manchester Evening News, four months of Thew's sentence was handed down for breach of a previous suspended sentence
Also this week
08 October 2012 | Man jailed for offensive Facebook comments about missing schoolgirl
09 October 2012 | Yorkshire man sentenced over offensive Twitter comments directed at soldiers