[vc_row][vc_column][vc_column_text]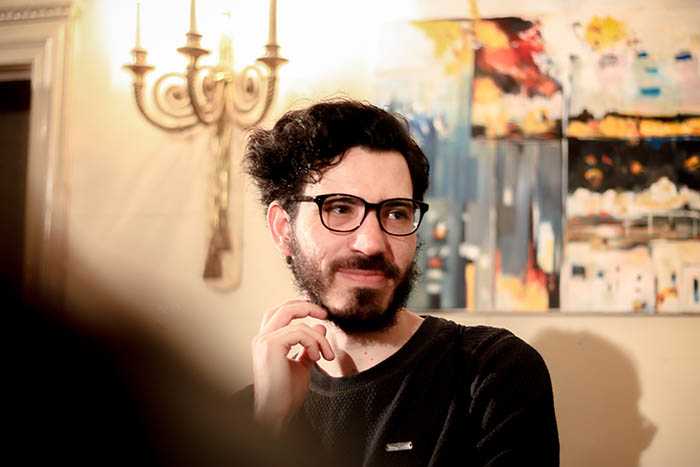 In 2009, incumbent president Mahmoud Ahmadinejad won Iran's highly contested election against Mir-Hossein Mousavi, which led to public outrage and the formation of the Green Movement, filling the streets with demonstrations calling for Ahmadinejad's ouster. For the next two years, Iranian authorities ran a campaign of jailing journalists and political opponents. Journalist Omid Rezaee was one such detainee.
The Iranian-born mechanical engineering student was the editor-in-chief of Fanous, a student magazine which was banned for standing with the Green Movement. Rezaee was arrested in October 2011.
In 2012 he fled to Iraq, and in 2015 he made his way to Germany. In February 2017 he started his own multilingual website, Perspective Iran, where news about Iran is mainly reported in German. He has also been working as a freelance writer within German media outlets since he was exiled. Rezaee aims to show the many hidden aspects of Iran and the nature of the everyday lives of its people.
Index on Censorship: You became a journalist at a very young age. What made you choose this career path so early?
Omid Rezaee: Storytelling excites me and has done so since childhood. It's the first thing I learned about myself. First by reading stories – whether journalistic and media stories or fiction – and then by telling stories. When I was 10, I founded a small magazine in the primary school which failed after only two editions. By 15, I founded the second one in the first year of high school. This one was published for one year and by 17 I founded the next one which was being distributed in all high schools of our town and which brought me to the attention of the authorities for the first time. But I still think this was worth all the troubles because it gave me the opportunity to narrate stories. It's the most delightful thing in this world.
Index: Why did you leave Iran?
Omid: The idea of leaving the country popped in my mind while I was sitting alone in a cell for days and nights without being able to see or talk to anyone. I was asking myself for how much longer I can bear this situation. When I was sentenced to two years in prison, I had to think about it more seriously. There are many reasons – both private and political – which led to my decision to leave the country. I would say the most important one – which still applies – is that I missed my freedom. First and foremost the freedom of speech, but it's also freedom of lifestyle.
Index: Walk us through your migration on foot to Iraq.
Omid: Apart from the dangers and physical and technical things, I would never ever forget the moment I crossed the border as if it was the end of the earth. I would never forget how I looked back to the soil, the ground which used to be my homeland. I guess there is a huge difference when you leave the country by a plane and don't see that "border". And when you cross it on foot and you know, you won't be back soon. This grieves you deeply.
Index: You are an active writer online. How do you think the internet has changed journalism?
Omid: I've started a professional career online and I am now studying digital journalism. By now it's part of me and I'm part of the digital world. Honestly, I have no clue how the professional journalism used to work before it was online. But the fact that I can still report on Iran and the Middle East, even though I've been away for years, is directly due to the internet and online world. Apart from all the troubles we're facing, we are closer to each other because of the internet. And more important: the digital world gives us – the journalists – more possibilities to strive against illegitimate authorities all over the world.
Index: How have you settled into life away from home?
Omid: It's not true if I say I don't miss my hometown, the city I studied in and the people I loved – or still love – and who love me. But the bottom line is that home is where one is free, where one can develop himself and live with dignity. I have a lot of good memories of Iran and I deeply miss a lot of people there, but I never considered Iran as a home, and it's the same here in Germany. My home is my language. I don't mean Farsi; I love German just as much my mother tongue, and this applies to the English language and the languages I'm learning right now. My home is the story I'm telling and I'm settling into my new life by telling stories. I am firmly convinced that only storytelling can rescue us.[/vc_column_text][/vc_column][/vc_row][vc_row disable_element="yes"][vc_column width="1/2″][vc_video link="https://youtu.be/6BIZ7b0m-08″][/vc_column][vc_column width="1/2″][vc_column_text]Index on Censorship partner Global Journalist is a website that features global press freedom and international news stories as well as a weekly radio program that airs on KBIA, mid-Missouri's NPR affiliate, and partner stations in six other states. The website and radio show are produced jointly by professional staff and student journalists at the University of Missouri's School of Journalism, the oldest school of journalism in the United States. [/vc_column_text][/vc_column][/vc_row][vc_row full_width="stretch_row_content"][vc_column][three_column_post title="Global Journalist / Project Exile" full_width_heading="true" category_id="22142″][/vc_column][/vc_row]