[vc_row][vc_column][vc_video link="https://youtu.be/AYDg8H16K0s"][vc_column_text]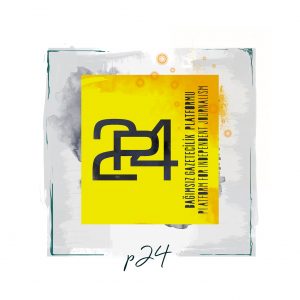 P24 (Platform for Independent Journalism) is a civil society organisation with an ambitious program to neutralise censorship in Turkey — a country in which speaking freely courts fines, arrest and lengthy jail sentences.
Turkey has become increasingly hostile to dissent in recent years. It recently replaced the emergency rule that started after the 2016 failed putsch with a presidential system in which executive powers are often unchecked. The country is the world's largest jailer of journalists: some 183 journalists and media workers are in prison at the time of writing, including many in pre-trial detention.
But journalists are not the only ones in danger: academics, artists and ordinary Turks expressing dissent have faced legal sanctions, economic pressure, and even arrests. In a famous case, a woman was detained after being overheard criticising the Turkish president – while talking to a friend on a bus. Even some of P24's workers have been detained, although not for their work with the organisation.
What makes P24 impressive is that it has been able to mount an ambitious programme even in such a high-risk environment, providing a glimmer of hope for civil society in Turkey. It has created a set of mutually reinforcing activities to promote free expression and fight to fill the democratic deficit.
Its legal team defends journalists and academics who are on trial because they exercised their right to free expression. P24 does its legal work on a pro bono basis, hoping to set important precedents in the Turkish legal system.
P24 also undertakes coordinated social media and public advocacy that include live-tweeting from courtrooms and campaigning through an array of websites, newsletters and exhibition spaces. One of its efforts — Expression Interrupted – is a website and newsletter tracking the progress of freedom of expression cases throughout the country.
P24 also provides safe spaces for freedom of expression. Susma24 is an outreach programme in which it brings together local bar associations and artistic communities. Through K24 and KIRAATHANE, its newly launched literature house, P24 also offers freelance opportunities and visibility to those excluded from the mainstream by the government's ongoing stifling of dissent.
P24, one of Turkey's most active civil society organisations secured the release of a young photographer, Cağdaş Erdoğan. While Erdoğan has been able to exhibit in Europe,  no Turkish gallery wanted to show his photography – so P24 organised an exhibition in its new Literature House "KIRAATHANE", one of its latest initiatives. In 2018, P24 also published three books on journalism, innovation and media freedom in its media library.[/vc_column_text][vc_separator][vc_row_inner][vc_column_inner width="1/2″][vc_single_image image="104691″ img_size="full" onclick="custom_link" link="https://www.indexoncensorship.org/2019/01/awards-2019/"][/vc_column_inner][vc_column_inner width="1/2″][vc_column_text]
Index on Censorship's Freedom of Expression Awards exist to celebrate individuals or groups who have had a significant impact fighting censorship anywhere in the world.[/vc_column_text][/vc_column_inner][/vc_row_inner][vc_separator][/vc_column][/vc_row][vc_row][vc_column][vc_basic_grid post_type="post" max_items="4″ element_width="6″ grid_id="vc_gid:1552057651002-8eabcc7d-44fd-4″ taxonomies="26925″][/vc_column][/vc_row]