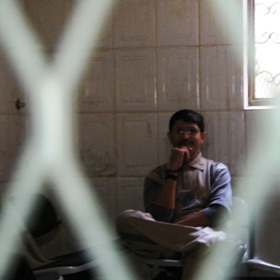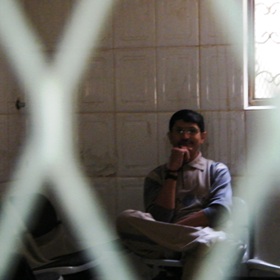 Journalist Abdul-Elah Haidar Shaye should have been released from prison as part of concessions to protesters in Yemen. But a phonecall from the US president has kept him behind bars. Iona Craig reports

In the days before mass anti-government demonstrations took place across the country last week, President Ali Abdullah Saleh granted a pardon to Yemeni journalist Abdul-Elah Haidar Shaye. But thanks to Barack Obama, it appears he will now not be released.
Shaye was sentenced last month to five years in prison for being the "media man" for Al-Qaeda. The 34 year-old journalist was found guilty of "participating in an armed gang, having links with Al-Qaeda and for taking photographs of Yemen security bases and foreign embassies to be targeted by the terrorist organisation."
In the wake of uprisings in Tunisia and Egypt, President Saleh made a string of concessions and welfare reforms to quell mounting opposition and calls for him to resign. Shaye's presidential pardon, announced last Tuesday, was in keeping with recent compromises. But in a phone call with his US counterpart on 2 February, in which Obama congratulated Saleh for his recent political reforms, the US president also expressed his "concern" over the intended release of Shaye.
Taken from his house in the middle of the night in August last year and held for 34 days without access to a lawyer or his family, Shaye's trial began last October. The journalist made his name after interviewing radical cleric Anwar Al-Awlaki. Shaye was also the first journalist to claim the US was behind bombings in the southern province of Abyan in December 2009, which killed 55 people including 21 children as well as 14 alleged Al-Qaeda members. Shaye's claims were confirmed in a leaked diplomatic cable released on 3 December. The leaked document recorded a meeting between President Saleh and the then head of US central command, General David Petraeus, during which they discussed the aftermath of the December bombings. Saleh told Petraeus "We'll continue saying the bombs are ours, not yours."
Shaye's lawyers, who did not represent him in court on the grounds that the journalist refused to recognise the legitimacy of his trial, say the charges against him were fabricated as a result of his reporting on Al-Qaeda and his accusations against the Yemeni and US governments.
Khaled Al-Anesi, a lawyer from human rights organisation HOOD, told the Yemen Times on Sunday that there were suspicions that the US wanted him jailed.
"This American interference insures that Yemen's dealing with terrorism is run by the US," said Al-Anesi. "If they wanted to release him they would have released him immediately straight after the pardon was announced. This is a sign that they don't want to set him free."
Shaye's continued detention at the request of Barack Obama would not be the first time Yemeni prisoners have been detained at the behest of the US. Recently leaked diplomatic cables revealed that 28 Yemenis were held, 'based on USG [US government] objections" despite Saleh agreeing to release them in a Ramadan amnesty in 2004.