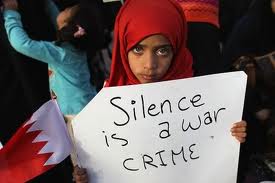 Students at Bahrain Polytechnic are being silenced and expelled for social media posts. Sara Yasin reports

For Eman Oun, 20, life was Bahrain Polytechnic. As a business student, she spent her days being an active member of the school's campus community. Even though the new academic year started on 18 September, Oun is stuck at home.
"I am supposed to be in a classroom right now" Oun told Index. She is one of 31 students permanently expelled from Bahrain Polytechnic for allegedly being involved in pro-democracy protests in February.
65 students were initially investigated, and in June, 63 students were eventually expelled for "participating in unlicensed gatherings and marches" based on evidence mostly obtained from social media pages like Facebook.  After an external review of the case, 32 of the expelled students were allowed to return to Bahrain Polytechnic.
The February protests began while Bahrain Polytechnic was not in session. CEO John Scott sent text messages to students asking them to leave their political views "outside the Polytechnic", emphasising the importance of a "neutral" and "safe" campus. But according to Asma Darwish, 21, the campus was anything but neutral.
Upon their return, all students signed a new code of conduct, warning of the consequences of "activities of a political nature", and students agreed to keep the campus neutral.
Students were subjected to a four-week investigation by a committee including members of the Ministry of Education, where they were confronted with paper records of their social media activity. Darwish said that her Facebook page was "secure", and speculated that "pro-government people" on her list handed her activity over to authorities. While some, like Oun, were peacefully protesting at Pearl Roundabout, others were expelled for "liking" a page on Facebook.
Darwish believes that it was clear that the new code of conduct was "aimed at anti-government students", because pro-government students that came to school with "Saudi flags and pictures of the king" were not penalised for their political activity.
According to Tony Mitchell, 49, a former tutor at Bahrain Polytechnic from Australia, things drastically changed once government officials intervened and took over the school on 6 April. While Scott stressed the importance of a politically neutral campus and staff, the new administration put in place by the Ministry of Education made the role of the staff clear. Mitchell recalled being informed that Bahrain Polytechnic tutors were now considered to be government employees, and that there would be "no toleration for saying anything against the government."
For Mitchell, "the cards were pretty much stacked" against him. Much like Darwish and Oun, it is believed pro-government individuals exposed him. He lived near Pearl Roundabout, and he videoed the protests in February and shared them on YouTube. Mitchell's contract was terminated for "supporting pro-democracy protests."
Like many other members of Bahrain Polytechnic's staff, Mitchell is a foreigner, and he found himself confronted with events that seemed to clash with the culturally modern image that Bahrain strives for. While Bahrain appeared to be "progressive and modern" compared to his past experience living in Oman, Mitchell was still shocked by what happened with the protests.
For many staff members, the protests and treatment of students was a rude awakening. Mitchell said that the "majority of ex-pat staff didn't understand what was happening. They didn't understand the seriousness of it."
Darwish was one of the students allowed to return to Bahrain Polytechnic. Even though Oun and Darwish had similar offenses, Oun was kept from returning. Oun, called the selection process "arbitrary", because the way the administration made the decision was unclear.
For Darwish and the other students, continuing their education at Bahrain Polytechnic came at a cost. She was forced to repeat a semester, and repay fees. She believes that the new administration is trying to "bully" them into quitting their studies.
Even though the returned students are able to complete their degrees, they could still be kept from potential employment, as their results contained a message stating they had missed a semester because they broke the laws.
The atmosphere on campus, which Oun described as once being "motivating, inspiring and encouraging" is now tense and fear-filled for students like Darwish.
"It is very clear that the environment is very different than before," said Darwish "I always felt like I could share my opinions with other students and tutors."
Now, even though she said that foreign tutors "know their pain", they are still unable to speak freely, leaving behind a "weird silence on campus"
Darwish said: "You know that young people are dying, and you can't talk about it. It is odd and strange."
Sara Yasin is an editorial assistant at Index on Censorship