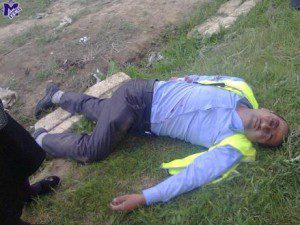 Azerbaijani journalist and Index award-winner Idrak Abbasov was brutally assaulted today.
Idrak Abbasov was filming the demolition of a house by the State Oil Company of Azerbaijan (SOCAR) in the village of Sulutapa. His brother told reporters that several SOCAR employees grabbed the journalist's camera and started kicking him. "He was covered in blood, his head was broken, and one eye was fully closed. I ran up and tried to protect Idrak, but they started beating me," Roman Abbasov said, adding that he took his brother to hospital after police blocked doctors from reaching their home.
Index understands that other reporters were present at the scene but Abbasov was singled out by his attackers. When Reporters from the Institute for Reporters' Freedom and Safety (IRFS) later attempted to travel to the scene to document the attacks, their taxi was pulled over by SOCAR employees and the journalists and their taxi driver were beaten.
Abbasov is believed to have suffered rib fractures and concussion. His family are awaiting news on damage to his internal organs.
Kirsty Hughes, Index's chief executive urged the Azerbaijan government to launch a full, transparent and independent investigation into the brutal attacks against Abbasov, his brother and colleagues. She said:
Idrak Abbasov was awarded the Guardian journalism prize at the Index on Censorship free expression awards for his brave reporting and for standing up to state intimidation in Azerbaijan. This attack against him and other journalists is truly horrific. The fact that police were present and failed to intervene reveals the level of hostility against journalists and activists among Azerbaijan's authorities.
"In Azerbaijan, where I have come from, telling the truth can cost a journalist their life," he said upon receiving the award last month.
On 9 September 2011, after Abbasov investigated the activities of a local oil company, SOCAR sent bulldozers to his family's home and claimed ownership of the site as part of a project to develop local oil resources with Global Energy Azerbaijan Ltd. His parents and brother were hospitalised after being attacked by the company's security service during the incident.
One assailant reportedly said: "Tell Idrak to get smarter, or we will cut off his ears."
It is believed that bulldozers targeted Abbasov's home because of his work monitoring human rights. The journalist, one of IRFS' founding members, reports for newspaper Ayna-Zerkalo and contributes to the Institute for War & Peace Reporting.
Listing the threats of detention and harassment Azerbaijani journalists face, Abbasov said at the Index awards:
This is the price that my colleagues in Azerbaijan are paying for the right of the Azerbaijani people to know the truth about what is happening in their country. For the sake of this right we accept that our lives are in danger, as are the lives of our families. But the goal is worth it, since the right to truth is worth more than a life without truth.
Index's recent report on  Azerbaijan's record on free speech, Silenced Voices, is available here.