One year after heroic human rights activist Ales Bialiatski was arrested and jailed on politically-motivated charges, Index asks you to take action in solidarity

Tomorrow (4 August) is the first anniversary of the arrest of Ales Bialiatski, one of the best known human rights activists in Belarus, who is currently serving a four-and-a-half year prison sentence.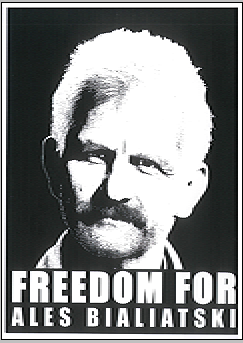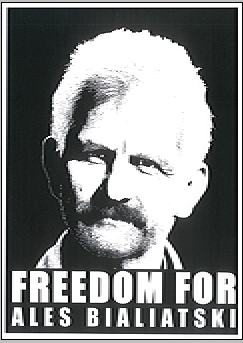 Bialiatski's wife, Natallia Pinchuk, says that she knows little about his life in jail.
"I received a letter from him last week," she says, with sorrow in her voice. "Ales reminisces about events of the past and thinks of his friends and family. But there is nothing about his present condition. He just says he is all right. Anything more would give the prison censors an excuse to ban the letter."
Natallia says that the last year has been "crossed out" from her life. "At first I tried hard to accept the fact that he is behind bars and attempted to adapt myself to the situation. But it is really impossible to get used to this."
Bialiatski, 50, launched the Human Rights Centre Viasna in 1996. Since then it has grown into the leading human rights organisation in Belarus and has provided help to hundreds of its citizens, including political prisoners, their families and others oppressed by the state. The authorities withdrew its official registration in 2003, but Bialatski and his colleagues continued their work. He has been elected vice-president of the International Federation for Human Rights and has been nominated several times for the Nobel Peace Prize, most recently in 2011.
Bialiatski was arrested on 4 August 2011 on charges of tax evasion. The income on which he was found guilty of not paying taxes had in fact been used to support the activities of his organisation after it lost its official status. It is obvious that his four-and-a-half-year prison sentence is punishment for his principled stance in support of civic freedoms in Belarus.
"He is in prison for all of us, for all human rights movement of Belarus," says Tacciana Raviaka, a Viasna colleague. "I remember exactly what he told me when the police detained him a year ago: 'Keep Viasna going!' His words still ring out for all of us here. We keep on with our work. They can't stop us. They can't stop what Ales believes in even when he is behind bars."
It appears that the authorities are still afraid of the man they imprisoned. They have refused to permit a single demonstration in support of Bialiatski anywhere in the country.
"This isn't just a reflection on the limits on the freedom of assembly in our country," says Raviaka. "It is done to hide the truth that Viasna is still working. We are not afraid and we have not given up. We are keeping up the fight for our leader and all other political prisoners in Belarus."
Despite the attempts to suppress the protests, Bialiatski feels the solidarity and support of people outside his prison cell.
"He keeps receiving letters and postcards, both from Belarus and abroad, from people he knows and complete strangers. These words of solidarity and human concern really help," says Natallia Pinchuk.
Send a postcard or a letter of support to Ales Bialiatski at the following address:
Ales Bialiatski
Sikorski St., 1; Prison №2
Babruisk, 213800
Mahiliou Region
BELARUS
Алесю Бяляцкаму
Папраўчая калонія №2, атрад №14
вул. Сікорскага, 1, г. Бабруйск
213800, Магілёўская вобласць
Беларусь