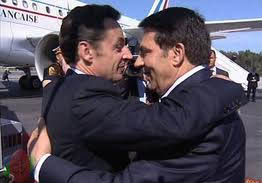 French ministers denied Tunisia was a dictatorship and offered Ben Ali's regime police support to deal with the recent protests. Myriam Francois-Cerrah explains how France found itself on the backfoot

Events in Tunisia may come as a shock to those unfamiliar with the country beyond its sandy beaches and package holidays. The former French colony, which has had only two presidents since independence from France 55 years ago, has been ruled since 1987 by a dictator whose masquerade of a transitional democracy hid the reality of a brutal military regime.
The current protests were sparked by the self-immolation of a desperate unemployed graduate on 17 December in one of the poorest regions of the country. He was one of thousands of young Tunisians frustrated by unemployment, the rising price of food and stifling laws on free expression. As the protests spread, anger was increasingly directed at President Zine al-Abidine Ben Ali.
The protests continued despite measures taken to quell public dissatisfaction, including the sacking of the government, the creation of a special committee to investigate corruption and a promise of fresh legislative elections within six months. The protests also triggered a brutal crackdown. The authorities used tear gas and live bullets against unarmed protesters, resulting in around 40 protesters being shot dead, while dozens of journalists, lawyers, bloggers and human rights activists have been arrested and subjected to mistreatment. But the violent response only exacerbated popular anger and unrest reached the capital on 13 January. Yesterday, faced with mutiny and mounting protests, Ben Ali fled the country. His departure has left France — Tunisia's traditional ally and trading partner — red-faced.
Just three days earlier, France's minister for foreign affairs, Michèle Alliot-Marie, faced with what she dubbed the "complex situation" in Tunisia, put the violence down to the inordinate expectations of the Tunisian people. Deploring events on the streets of Tunisia, she offered the regime the exceptional savoir-faire of the French in matters of security, stating "the globally recognised experience of our armed forces allows us to resolve security situations of this kind ".
Leaving aside the deep irony of the French Republic offering a brutal dictatorship tips on how to maintain order, it would appear now that France is lost for words as President Ben Ali has fled to Saudi Arabia. Some suggest he was escorted by French and/or American allies (despite headlines that French President Nicolas Sarkozy denied the exiled president permission to land).
On Friday, as the streets filled with protesters, one thing was very different: the army refused to shoot at protesters as they had been ordered to on previous days. Tunisia's ruling regime relied on a tight alliance between the military, the Trabelsi clan (Ben Ali's in-laws), and a small and very wealthy elite. Now television footage showed young protesters hugging and shaking hands with soldiers, causing outrage and panic amongst the ruling elite. The end was nigh, with reports that the crew of a Tunis Air plane refused to take off for a scheduled flight to Lyon and forced members of the Trabelsi family to disembark. News of Ben-Ali's departure soon followed.
In a brief statement, President Sarkozy cautiously said that France was "assessing the constitutional transition" and hoping for an end to the violence which could only be resolved through "dialogue". But the Tunisian protesters didn't seem open to dialogue with a dictator buttressed by western allies.
Bearing placards which read "power to the people" and chanting "freedom" and "Ben Ali out!", Tunisians from all walks of life rejoiced at news the president had fled, tempered only by the anger that he is unlikely to be held accountable for his excesses.
Tunisia now has its third leader in 24 hours after constitutional rules forced Ben Ali's choice of temporary leader, Mohamed Ghannouchi, to hand the position over to the speaker of parliament, Fouad Mebazaa. Although some are suggesting the upheaval may be the first Arab revolution of the 21st century, it remains unclear who will take the lead in uniting Tunisian calls for democratic change. For now, a state of emergency has been declared. Gatherings of more than three people are forbidden and Tunisian airspace has been closed.
France has close ties to the ruling regime. The French Left, led by Martine Aubry, has called for solidarity with the protesters and support for the democratic transition. Some commentators have suggested that the cabinet's apparent cool in the face of the Tunisian heat reflects a deep-seated fear that the revolts could hand power to Islamist parties. Addressing Sarkozy's sudden lack of eloquence, the Elysée explained that in such a "very complex" situation, fewer words were preferable.
The sentiment was not shared by other portions of the political class, notably socialist MP Gaëtan Gorce, who denounced France's prolonged silence and "extreme prudence" in the face of recent events as shocking and disappointing. Expressing widespread sentiment, he stated that France should condemn the repression, adding, "Are you going to remain a prisoner of the false dichotomy that there is no middle ground between the Islamists and the authoritarian and sometimes corrupt regimes? "
While Sarkozy may fear a repeat of the Iranian revolution of 1979, in which popular protests were channelled into support for Ayatollah Khomeini, others have suggested that France's blind support for dictatorships, such as Ben Ali's, feeds support for extremist groups.
In focusing on the violence on the Tunisian streets, rather than denouncing the role Ben Ali's dictatorship played in fomenting discontent and repressing its own people, France has shown that it values its privileged relationship with Tunisia's ruling elite more than it values the rights of Tunisian citizens. Commenting on France's silence, the president of the France-Tunisia friendship group said: "It is disappointing that we have limited ourselves to some general considerations, stating that we are preoccupied. We cannot accept that young and less young people are shot at with live ammunition. France and Europe must speak up. " As the unrest spreads to the streets of Algeria and Mauritania, France's ambivalence will not go unnoticed for long.
Myriam Francois-Cerrah is a freelance journalist and a PhD candidate at Oxford University
RECOMMENDED: Tunisia: The Middle East's first cyber war
Tunisia hits the headlines