In Sana'a President Saleh is walking a fine line — using violence to disperse peaceful protests works until civilian deaths make international news. Iona Craig reports

In Yemen the days since the fall of Egypt's President Hosni Mubarak have been marked by anti-government protesters being beaten. On Sunday taser guns were used.
A pattern of violence became almost familiar on Monday when once again several hundred activists gathered outside the capital's Sana'a University chanting: "Saleh leave, all the people hate you."  As on previous days, supporters of President Ali Abdullah Saleh were also present, waving uniform placards of the president, whilst carrying sticks and batons. After attempts to keep the two sides apart failed the batons were put to use and stones were thrown.
The previous day's protest ended with greater brutality when plain clothed security forces using taser guns, batons and sticks waded in to a shrinking crowd of 100 demonstrators as they began a sit-in at a major road junction. More than 20 activists were arrested and several injured.
Unlicensed protests are considered illegal by the ruling General People's Congress (GPC) Party, who have been quick to crackdown on peaceful protests in Sana'a and the highland city of Taizz, since a gathering on Friday night in celebration of Mubarak's fall, came to a violent close, when security forces in civilian clothes set upon demonstrators.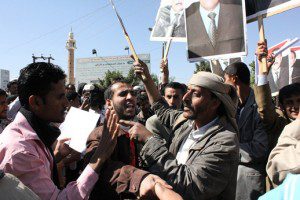 On Monday truck loads of soldiers conspicuously carried baseball bat style batons, rather than their usual guns, as they guarded the route of the previous day's march from the university to the President's (Al-Saleh) Mosque.
Using violence to break up anti-government protest is not unusual in Yemen. Southern separatists, who have been calling for independence in almost weekly demonstrations since 2007, have been shot at during confrontations with government security forces.
It appears Saleh has learnt from recent uprisings in Tunisia and Egypt that shooting civilians grabs headlines, whilst beatings by plain clothed government men are less conspicuous.
The attacks on peaceful protesters have had some of the desired effect. The turnout at the university was smaller today — several hundred compared to Sunday's throng that grew to over 1,000. But in Taizz protesters have continued to come out in greater numbers than the capital. After a reported 20,000 gathering on Saturday, many stayed out on the streets until dawn. The next few days in Yemen could be costly both for the government and demonstrators.
Iona Craig is a freelance journalist and editor at the Yemen Times, Sana'a