On the second anniversary of the Minsk protests, Index calls for the immediate release of all political prisoners in Belarus
Today marks the second anniversary of rigged presidential elections in Belarus, which resulted in a severe clampdown on civil society, independent media and political opposition.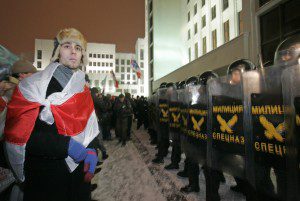 Two years ago, tens of thousands of Belarusians gathered in the centre of Minsk to protest against election fraud that helped the country's authoritarian ruler Alexander Lukashenko — in power since 1994 — become the president for the fourth consecutive time. The peaceful demonstration was brutally dispersed by the police. More than 700 Belarusian citizens were detained and served administrative arrests; hundreds of protesters, journalists and even accidental passers-by were beaten up by the police.
Seven opposition presidential candidates (out of nine running) were later charged with organising of mass riots; most of them received sentences of imprisonment. One of them, Mikola Statkevich, is still in prison as well as the political activists Paval Seviarynets and Vasil Parfiankou. Two more activists, Zmitser Dashkevich and Eduard Lobau, were arrested in Minsk on the eve of 19 December 2010, and are in prison as well. So is Ales Bialiatski, a prominent human rights defender, whose organisation, Human Rights Centre Viasna, has been one of a key civil society groups that helped victims of repressions after the clampdown.
For the past two years Index has been campaigning for releasing the jailed political prisoners in Belarus. Through targeted social media, news articles, blogs, protests and events, Index together with its partners — such as Belarus Free Theatre and Free Belarus Now campaign — brought the situation faced by ordinary Belarusians to the attention of the international community. Luminaries signed petitions; banks operating within Belarus were targeted to stop selling government bonds. As a result of this pressure, several political prisoners, including high-profile opposition leader, Andrei Sannikov, were released in April 2012.
Kirsty Hughes, CEO of Index on Censorship said:
On the second anniversary of Belarus' rigged presidential elections, Index calls on the Belarus government to release all political prisoners and to respect its citizens' fundamental rights. The European Union including all its member states must increase their pressure on the Belarus government to respect fully human rights within Belarus.
Andrei Aliaksandrau is the Belarus and OSCE Programme Officer at Index

photo by photo.bymedia.net
Latest posts by Andrei Aliaksandrau
(see all)